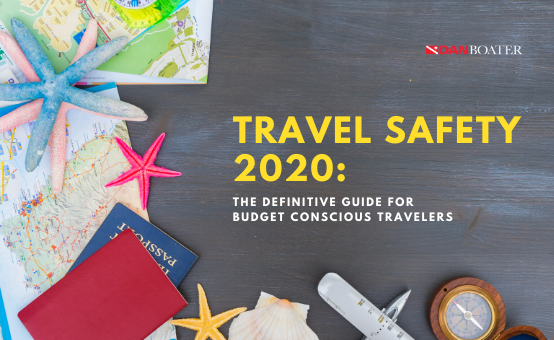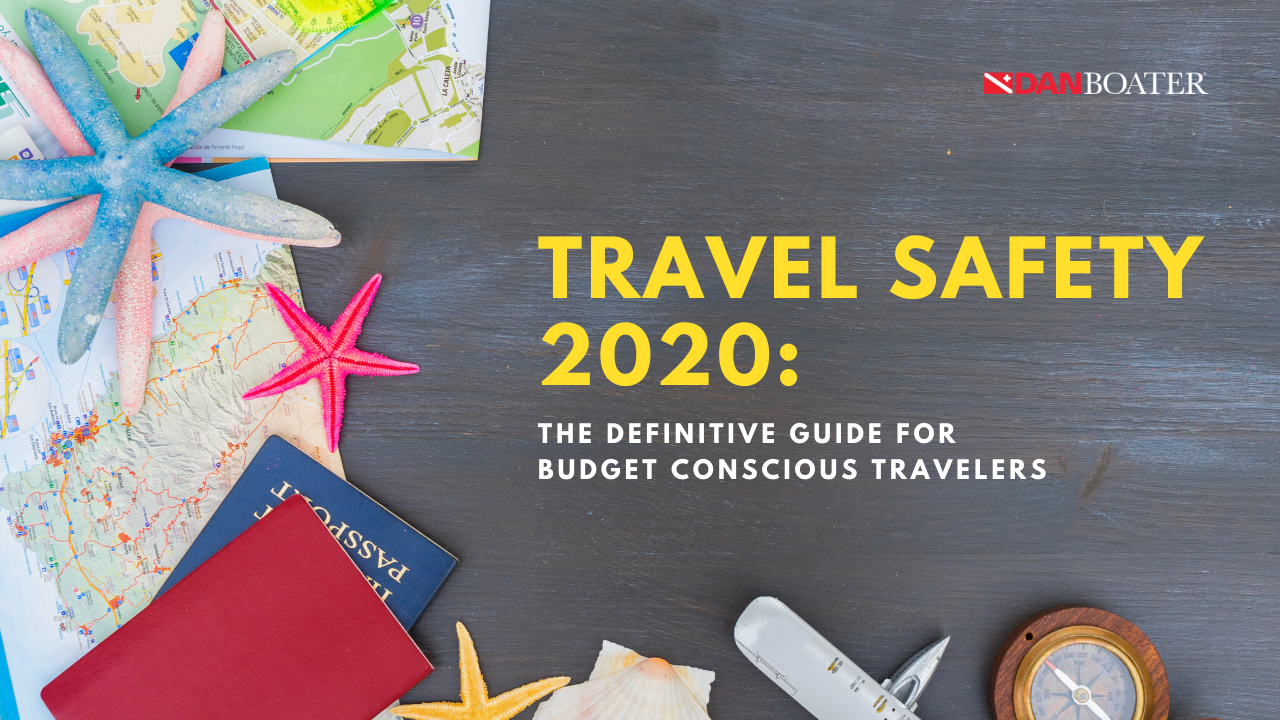 Travel Safety 2020:
The Definitive Guide for Budget Conscious Travelers
Our Top 39 (and counting!) Free Travel Safety Tips and Resources
Whether you're traveling by sea or on land, nothing ruins a getaway quite as quickly as being scammed, robbed, lost, stranded, injured or ill. Sure, there are plenty of resources out there you can access to help keep you safe, but finding them can be time-consuming, sometimes pricey, and not all of them may be reliable.
To the rescue: our comprehensive reference guide of authoritative and reputable resources that are packed with tried-and-true travel safety tips. And no credit card required here—these are freebies! Yep, every resource listed below will cost you zero, zilch, nada—but the peace-of-mind benefits you'll reap in return will definitely be priceless.
Contents
Chapter 1


Know Before You Go
Get educated. In the U.S., thirty-six states mandate some form of educational requirements for operating a boat or personal watercraft (PWC) on state waters. If you or your crew haven't met those requirements, the BoatUS Foundation offers the only free online boating safety course developed specifically for your state. These courses are recognized by the U.S. Coast Guard and approved by the National Association of State Boating Law Administrators.
Download these valuable assets. Even if you're a seasoned skipper, it's always a good idea to brush up on health and safety tips. DAN Boater offers instant access to informative travel health and safety guides on topics ranging from trip planning and travel disorders to bone and joint injuries and hazardous marine life encounters. The National Safe Boating Council, BoatLive365, and American Canoe Association offer rich downloadable resources as well, with brochure topics running the gamut from avoiding carbon monoxide poisoning and boat accident reporting to choosing the right life jacket and paddler safety checklists.
Bookmark the top traveler safety sites. Another good way to improve (or refresh) your safety knowledge is to check out blogs and other sites chock-full of up-to-date information you can use. Here's a short list of top online resources to help get you started:

Boater Safety Traveler Health and Safety
Listen to safety-related podcasts from real travelers and cruisers.
Check out the latest traveler safety apps.
Chapter 2


Let Someone Know Where You'll Be
If traveling by boat, file a float plan. Whether you're planning to venture out for an afternoon, or setting off for an ocean crossing, you need to let someone know where you're going, and when you expect to return. Think of this critical document as leaving a footprint on the water that can be followed by anyone who may be searching for you.
If traveling on land, email friends and family your itinerary. Include flight numbers and hotel names along with notes on when you may be out of range of Wi-Fi or phone usage. If your plans change, send private (not public!) messages via Skype, WhatsApp, Facebook Messenger, or Twitter.
Chapter 3


Upload Important Documents for Safekeeping
Take photos or scan all your important documents and upload them to a free cloud storage service like Amazon Cloud Drive, Google Drive, or Microsoft's OneDrive. Include your passport, visa, driver's license, captain's license, all credit cards you're taking with you, your travel insurance policy and DAN Boater member card, your prescriptions, and vaccination records. If any of your important documents get lost or stolen, having electronic copies will make getting replacements a lot easier. (It's also a good idea to leave copies of your documents with someone you trust back home in case you can't access the Internet while you're traveling.)
Upload receipts for valuables as you're traveling. You will need to submit these to your insurance company if anything gets lost or stolen.
Chapter 4


Check Travel Advisories
Make contact with the U.S. Department of State. This site has a page for every country in the world, where it lists all known difficulties and current threats to the safety and security of visitors.
Make sure your vaccinations are up to date. The Centers for Disease Control can help with that, as well as provide you information on disease outbreaks around the world and other health precautions.
Enroll in the Smart Traveler Enrollment Program (STEP). This will allow you to receive important information from the Embassy about safety conditions in your destination country, helping you make informed decisions about your travel plans. Enrollment also enables your family and friends to get in touch with you in an emergency and helps the U.S. Embassy contact you in the event of a natural disaster or civil unrest.
Check the CDC's COVID-19 travel recommendations by country.
Get your vessel checked. America's Boating Club and the U.S. Coast Guard Auxiliary offer complimentary boat examinations to verify the presence and condition of certain safety equipment required by state and federal regulations. The Auxiliary also offers virtual vessel exams for boats and paddle craft free of charge.
Complete a pre-departure checklist. To assure you have all the safety equipment required, as well as preventative measures the U.S. Coast Guard recommends to enjoy a safe boating experience, download this USCG Vessel and Equipment Checklist.
Check the weather. Before heading out, check the NWS marine forecast, and always keep your VHF radio on when you're out on the water. That way, you can get alerts on what sort of weather is expected in your area. Use your radar to watch rain clouds' directional travel, or use a smartphone app such as Radar Now.
Chapter 6


Brush Up on Rules of the Road
Check driving and insurance requirements. If you plan on driving while visiting another country, you may need an International Driving Permit to take the wheel legally. (The cost for a permit is only $20 USD.) If you're planning to rent a car, contact the rental car company to learn about local driving and auto insurance requirements.
Read up on the rules of the road for any country you're planning to visit.
Review the boating navigation rules. Just as driving laws aid vehicles in safe driving, Navigation Rules are regulations that aid mariners in safe navigation. These rules are legally binding, and the application of them makes the waterways safer for everyone. You can download a full copy here, or consider printing out a quick reference guide that can easily be displayed on your boat.
Chapter 7


Make Sure Your Meds Are Legal
Check if the country you're visiting or passing through allows the prescription medications you plan to take with you. Some countries will enforce harsh penalties if you're caught with medications that are widely available in the U.S. but banned in theirs. Contact the country's foreign embassy for help with this. If the prescription you're traveling with is banned where you're headed, it may be possible to get permission to travel with it. If not, ask the embassy or your doctor to recommend an alternative.
Carry the proper paperwork. Some countries like the UAE require specific paperwork for medications you are traveling with, so always ensure you have the right documentation for the country you're visiting.
Keep medications in their original labeled containers and bring enough to cover your trip plus a few days extra in case of delays.
Chapter 8


Know Who to Call in an Emergency
Review how to make a Mayday call. If your (life-threatening) emergency occurs at sea, you'll need to make a Mayday call—the equivalent of calling 911 when you have an emergency on land. So, be sure you know when to call a Mayday and how to do it properly. And if your situation is difficult but not dire, know how to make a Pan-Pan call as well.
Look up the 911 equivalent of where you're going. On land, calling 911 works in the United States, but each country has its own emergency codes you should know before you go. Write it down and keep in your wallet or add it to your smartphone—just in case.
Pinpoint your embassy here (searchable directory) and here (interactive map). If you're a U.S. citizen traveling abroad, you can contact the closest U.S. Embassy for assistance. You can also visit the Getting Help in an Emergency page on the Department of State (DOS) website for a list of services offered in the event of natural disasters, lost or stolen passports, medical emergencies, crimes, etc.
Chapter 9


Avoid Getting Conned
Research popular scams. Wherever you go in the world, you'll always find professional con artists looking for new and innovative ways to target travelers—and it's easy to be blindsided by one, especially in unfamiliar surroundings.

For example, here are some of the most common travel scams and international financial scams to beware of.
For a more in-depth search of tourist scams happening at your specific destination, check out Travelscams.org, the largest community-built travel safety database.
Chapter 10


Stay Safe in Cyberspace
Beware of free Wi-Fi spots. Use the wrong connection or ignore good security practices, and someone could steal vital information from you while you're browsing the web. Most cybercriminals aren't looking to target you, specifically; they're simply looking for easy targets. To avoid becoming one of the 17 million victims of identity theft each year, set up a virtual private network (VPN) that will allow you to access the Internet securely while traveling. PC Magazine recently tested scores of VPN services, including freebies, and the Editor's Choice winner was ProtonVPN.
Avoid using public computers, if possible, including the ones offered at hotels. Do not use them to access your most sensitive information, such as bank or medical records. If you log in to any personal accounts from a public computer -- your email or social media accounts, for example -- use your smartphone or other computer under your control to change the passwords on those accounts as soon as possible.
Take extra precautions to keep your smartphone and laptop secure. Check out the Federal Communications Commission's free guide on cybersecurity for international travelers for details.
Chapter 11


Safeguard Your Money
Call your bank. Let your bank and credit card issuer know what dates you'll be in certain countries. This will help them identify and block any fraudulent activity on your account. This is also important if you want your cards to work when you get there!
Install your bank's mobile app.
Use a pre-trip money checklist to avoid hassles while traveling. Rick Steves shares his own checklist here.
Think before you withdraw. When withdrawing cash, only use ATMs attached to banks, as they will have less chance of being tampered with. The best way to find these? Use Maps.me, an offline map and navigation app that works with no Wi-Fi or cellular internet. All it needs is your phone's GPS. Even safer, try to use ATMs that are inside buildings, as these usually have cameras (a huge theft deterrent). And, like anywhere in the world, make sure you cover the keypad when you enter your pin and try to make all withdrawals in daylight.
Exchange money only at legitimate outlets. Never exchange money with someone offering you a "great conversion rate" or at a pop-up kiosk—unless you want to end up with counterfeit bills! Use an international/national bank or reputable exchange service instead. Again, check Maps.me for reputable banks nearby.
Chapter 12


Know What You Should (and Should Not) Eat and Drink
Avoid contaminated food or drinks when traveling. Before you go, check out the CDC's online Guide to Food and Water Safety to help reduce your risk of maladies ranging from Montezuma's revenge to food poisoning. Also, download the CDC's free "Can I Eat This?" app for on-the-go advice regarding safe food and drink choices when you travel.
Make sure the water is safe to drink. (This precaution applies to the ice in your drinks, too!) All kinds of illnesses can be transmitted in water—diarrhea, giardia, hepatitis A, typhoid and cholera—so it pays to know which parts of the world guarantee clean, safe tap water, and where you should be sourcing bottled water instead. To research your destination, start with Australian journalist Meg Jerrard's map of countries where the drinking water is unsafe.
Carry translation cards to communicate any food allergies and dietary requirements. Whether you (or your crew or family members) are allergic to eggs, peanuts, shellfish or anything else, you'll find what you need to communicate that information (in numerous languages) at Allergy Action's website. Just save the files you need on your smartphone, and you're good to go.
Chapter 13


Pay Attention to Your Wardrobe
Research clothing laws and customs for your destination. You already know that dressing modestly in Middle Eastern countries is a must, but did you know that driving while wearing sandals or flip-flops in Spain is a punishable offense? Or that you can be fined for wearing camouflage clothing in Barbados?

Generally speaking, most countries have no laws regarding what you can and cannot wear, but for safety reasons, you don't want your clothing to scream, "I'm a tourist!". Just keep in mind that ignoring local dress code guidelines can give an impression of arrogance, ignorance, and disrespect.

You could do an Internet search engine for "what is illegal to wear in ______" but your best bet for getting an official answer is to contact the US Embassy or Consulate for the destination country.
Chapter 14


Get Help for Minor Illnesses
Find a clinician who specializes in travel medicine. If you catch a bug while traveling or are just feeling under the weather and can't shake it with over-the-counter meds, you may need to see a medical professional. Where to go? The International Society of Travel Medicine can direct you to a reputable travel clinic nearby.
Chapter 15


The One Thing You SHOULD Splurge On
If you or your loved ones experience a life-threatening medical emergency while traveling, your route to recovery is likely to come with a massive price tag. To avoid this sticker shock and to assure you get the very best care, you need travel insurance. DAN Boater travel insurance not only covers medical and security evacuation services and medical/dental expenses (including accident coverage) but also offers 24/7 emergency assistance, trip cancellation/interruption coverage, and help with lost or stolen baggage.