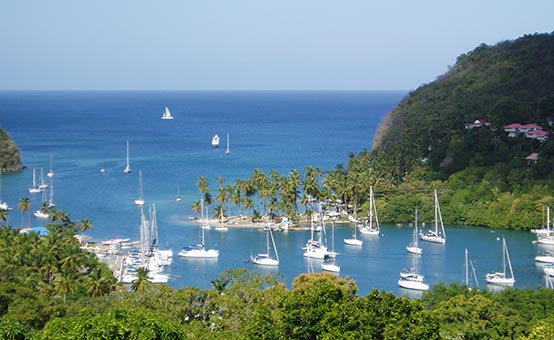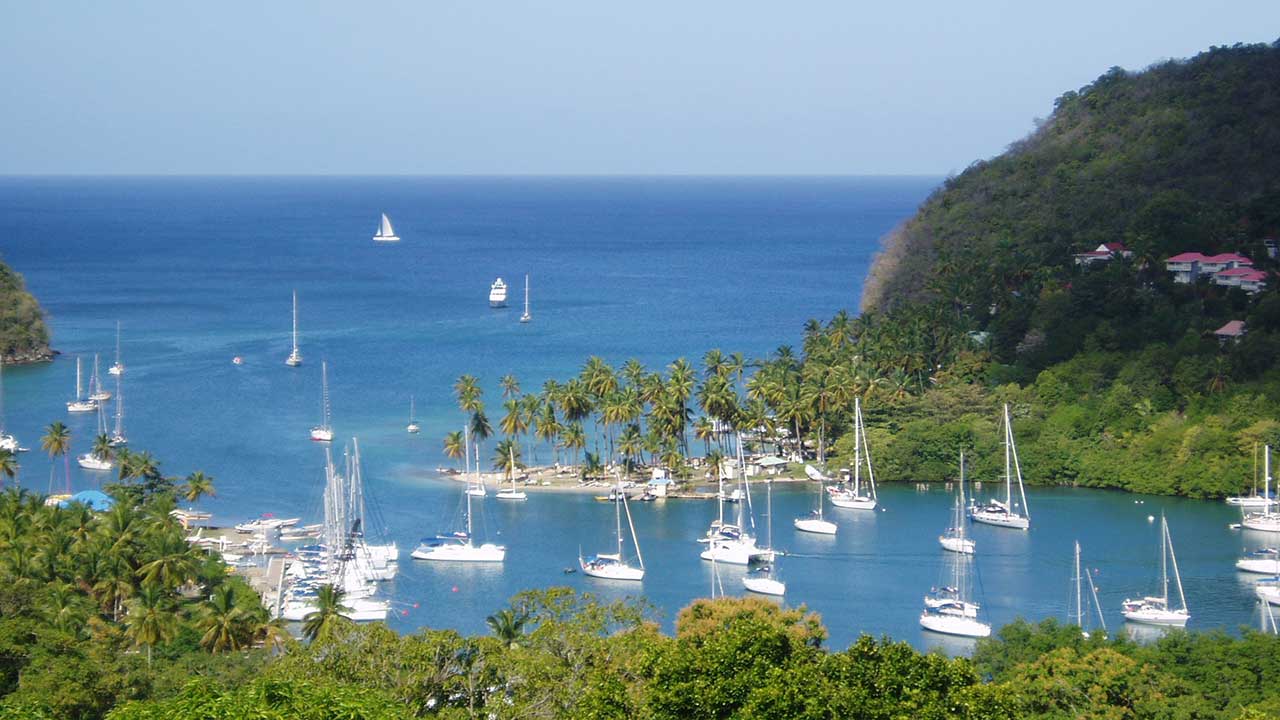 First time cruising St. Lucia? Here's what you need to know.
By DAN Boater
"STUNNING!"
That's the adjective most who have visited St. Lucia would choose to describe this Windward Island. Twenty-seven miles long and 14 miles wide, St. Lucia is situated in the bullseye of the eastern Caribbean's chain of islands. Bathed in sunshine and blessed with rain forests, volcanoes, and breathtaking beaches, the area is legendary for its crystal-clear waters, lush flora and fauna, and mesmerizing marine life. And as for bragging rights, St. Lucia boasts the highest number of Nobel laureates per capita—plus it's the only island in the world that has a drive-in volcano!
Welcome to the "Helen" of the West Indies
St. Lucia was named after Saint Lucy of Syracuse (AD 283-304), a well-known saint in early modern England, and is one of just two countries in the world named after a historical woman (the other is Ireland, named after the Celtic goddess of fertility, Eire). Legend has it that in 1502, French sailors were shipwrecked on the island on December 13, the feast day of St. Lucy, so they named the island in her honor. Thanks to the area's beauty—and the tug-of-war it created between the French and British over the centuries—St. Lucia is also often referred to as the "Helen" of the West Indies.
From 1958 to 1962, St. Lucia was a member of the West Indies Federation, but in 1979, it became an independent state and a member of the Commonwealth of Nations. Still, a strong French influence lingers. While English is the official language, many of the locals (population is about 180,000) communicate in Creole, a language mostly found in the French Caribbean, Martinique, and Guadeloupe.
When to Go
St. Lucia has a warm, tropical climate year-round, but peak travel is December through April — although many sailors and cruisers go in May and June for the glorious late spring/early summer temperatures - high 70s to 80s. If you're looking for fun, island attractions include the Independence Day festivities (February), which include calypso shows and parades; the St. Lucia Jazz & Arts Festival (May); and the island's annual Carnival (July), with a parade of bands and the Carnival Queen pageant. The month-long Rose Festival (August) honors the island's patron saint, and Dive Fest (September) showcases the St. Lucian dive experience. Hurricane season is June through November.
Upon Arrival
Approaching St. Lucia by boat is relatively simple and straightforward. In fact, an absence of hazards makes this island a perfect destination for less experienced sailors and cruisers eager to further their sea miles.
Visas are not required for citizens of the U.S. and Canada (or those arriving from France, Germany, Ireland, Italy, Netherlands, Norway, Switzerland, the United Kingdom, and Venezuela). But you must clear customs within 24 hours of arriving in Saint Lucia and should not leave your boat before receiving clearance from customs officials.
Here's the documentation you will need to clear customs:
Vessel's papers showing ownership and the nature of business in which the vessel is primarily engaged.
Clearance documentation for last port prior to Saint Lucia that includes a Customs Declaration. (Since many countries do not automatically issue these documents, be sure to request one.)
Passports (must have six months' validity) for all crew and passengers and any appropriate visas.
If you're sailing or cruising with pets, they'll also need a "passport"—or a Veterinary Import Permit—before entering St Lucia. Cats and dogs must be microchipped, have been vaccinated against rabies and have been treated against ticks and fleas within 48 hours of arrival. Animals (and their documentation) MUST be inspected by the Veterinary Officer before being allowed ashore. For full requirements and information: click here.
A six-week stay is granted when clearing customs, but you can request to stay for up to three months, although to do so requires applying for an extension in person at the main Immigration Office in Castries (the capital).
Where to "Park"
St Lucia has two marinas: Rodney Bay Marina, towards the north of the island, and Marigot Bay Marina (Marigot Bay is where the original Dr. Doolittle flick was filmed), which is located south of the capital of Castries.
Each port includes 5-star amenities, including:
A multitude of slips
Shipyard with repair facilities
Duty-free chandlery
Duty-free fuel
High-quality yacht provisioning
Luxury concierge services
Proximity to land activity locations and hotels
Other highly-recommended places to anchor include Soufriere, Vieux-Fort, and Pitons Bay.
Staying Healthy and Safe
The tap water is safe to drink in St. Lucia, and the island is generally risk-free of contagious diseases. In fact, no vaccinations are required to enter the country, although the CDC recommends being up to date on these vaccinations before you visit. NOTE: A Yellow Fever vaccination certificate is required for travelers nine months of age and older coming from a country with risk of Yellow Fever transmission.
Still, even a paradise island like St. Lucia has its challenges, so be prepared for these hazards:
The Sun.
Being close to the equator, the sun can be brutally strong in St. Lucia. Be sure to wear wide brim hats and slather on plenty of sunblock to prevent major burns. Also, seek shade as much as possible, particularly during the hottest times of the day.
What NOT to wear in St. Lucia
Camouflage clothing (or luggage/backpacks) is banned in St. Lucia. Wearing of any form of camo clothing and bags is illegal in St. Lucia for everyone except for military personnel.
Insects.
Mosquitos thrive in tropical climates, and St. Lucia is no exception. Besides making you itchy, island mosquitos have the potential to carry diseases (like Yellow Fever, Chikungunya, Dengue, and the Zika virus), so take meticulous measures to avoid getting bitten. Use a repellent containing 20%-30% DEET, wear neutral-colored (beige, light gray) clothing, and toss any containers of standing water from areas in and around your boat.
Theft and crime.
Incidents of theft from boats are not uncommon in St. Lucia, so use common sense when going ashore. Lock your vessel—securing all hatches and doors and stowing anything of value out of sight. It's always a good idea to keep a record of serial numbers/photos and store these in a secure place for purposes of investigation and proof of ownership should a theft occur.
When exploring ashore, exercise normal precautions. Remain aware of your surroundings at all times, stay on the beaten path, travel in groups, and avoid wearing or flashing cash or any valuables.
Before you go, you can review the Crime and Safety Report for Barbados, which covers St. Lucia. And, as when visiting any foreign country, be sure to enroll in the Smart Traveler Enrollment Program (STEP) to receive alerts and to make it easier for officials to locate you in an emergency.
Finally, if you are the victim of a theft, be sure to visit the Caribbean Safety and Security Net's website and click on the "Report an Incident" icon. This form is quick and simple to complete and prevents other sailors and cruisers from following in your footsteps. Remember, it's every boater's responsibility to ensure that incidents are reported.
Weather.
Although St. Lucia is technically in the "hurricane belt"—the area that produces and aggravates the massive storm cells—most activity passes far to the northwest of the island. For this reason, on those rare occasions when hurricanes do hit the island, they are almost invariably categories 1 or 2. In fact, only 14 hurricanes have moved closer than 60 miles to St. Lucia since 1850, and Marigot Bay is traditionally known as a highly effective hurricane shelter. Nevertheless, if visiting the area during hurricane season (June through November), be sure to stay up to date on the weather and have a contingency plan should a tropical storm or hurricane be headed in your direction.
Medical care.
St Lucia is a small country where medical facilities are not as advanced as in the United States. Thus, travelers are advised to carry medical evacuation coverage for serious emergencies or comprehensive travel insurance policy that covers medical expenses while you're on the island.
Marine Emergencies.
Have these important numbers on hand when sailing in and around St. Lucia:
Fire/Ambulance – Dial 911
Police – Dial 999, 4357 or VHF Channel 16
Vigie, Moule, and Chicque lighthouses are manned 24/7 and all of them monitor VHF Channel 16.
Your Must-Do List of Fun Things to Do
From lush rainforests and dazzling waterfalls to immaculate beaches and volcanic landscapes, there are so many natural wonders to explore in St. Lucia. Here are some activities to add to your "must-do" list:
Go snorkeling.
With its temperate climate, the waters surrounding St. Lucia are chock-full of colorful marine wildlife. For the most popular site, head to the base of The Pitons, two iconic volcanic spires that rise sharply from the sea and mark the island's west coast. Here, at Anse de Pitons, you'll see a cornucopia of corals, fish, and reefs. Virgin Cove, with its relatively shallow waters, is the ideal place for those new to snorkeling and will enable you to see a wide variety of dazzling sea creatures. Reduit Beach, on the Northwest coast close to Rodney Bay Marina, is another popular choice for those sailing and cruising St. Lucia, but it can get very busy. A smarter choice may be to take a short day trip to the Southern Grenadines and anchor in the sheltered waters of Tobago Cays. Here, you can snorkel (or dive) in the company of sea turtles and a flashy array of tropical fish.
Go diving.
St. Lucia is an aquatic playground for diving enthusiasts, offering numerous options to take the plunge. Piton Wall, a 1,500-foot underwater wall is home to an array of marine life—including rays, turtles, colorful corals, and some 160 different species of fish. Turtle Reef is alive with sea creatures, including Hawksbill turtles, barrel sponges, and moray eels. At the Pinnacles, you'll find yourself surrounded by abundant sea creatures—including Venus fish, butterflyfish, and moray eels. You may even encounter a barracuda! And in Anse Cochon, the wreck of the Lesleen M beckons at 50 feet. This 160-foot cargo ship is home to lobsters, moray eels, and reef fish.
Catch some fish.
The Caribbean is home to some of the best fishing grounds in the world, and St. Lucia has some of the deepest waters in the Caribbean. This allows for year-round fishing of all the varied, inhabitant species. Expect to catch Blue Marlin and Sailfish, Yellow Fin and Black Fin Tuna, Dorado, Barracuda, King Mackerel and Spanish mackerel, Wahoo, Rainbow Runners, Horse Eye Jacks, and Yellow Tail Snapper.
Because fishing is such a popular sport in St. Lucia, island officials promote a catch and release policy among fishermen. Anglers are also reminded not to throw waste overboard in the water, so the seas of St. Lucia remain clear and clean.
Take a hike.
St. Lucia's rainforest trails can be found in the northern, western, and eastern portions of the island. Whether you are looking for a relaxing or adventurous rainforest hike, there are trails for every age group and fitness level. On your trek, expect to ooh and ahh at colorful orchids and anthurium. Rich birdlife includes the Saint Lucian parrot (the endangered national bird), the Saint Lucian black finch, and the Saint Lucian oriole. Don't forget to pack a swimsuit so you can enjoy a dip at the base of one of many majestic waterfalls.
Treat yourself to a mud bath.
Moor in Soufrière Bay, and dive in (literally!) to Richard Branson's and Oprah's favorite St. Lucia past-time: the famous mud baths at Soufrière Volcano. These rejuvenating and detoxifying Sulphur springs are packed with minerals that claim to make you look 12 years younger. They're also said to help heal sunburns, eczema, and sore joints.
Drive through a volcano!
Visit the world's only drive-in volcano at the Sulphur Springs. This journey takes about 1.5 hours, and much of the drive is through a rainforest. There are plenty of photo-stop overlooks with breathtaking views, so pack a camera. You'll also meander through banana plantations and some sleepy, picturesque fishing villages.
Go historical.
Sail across Rodney Bay and anchor off Pigeon Island. This 44-acre islet located in Gros Islet was once isolated from the country in the Caribbean Sea, then artificially joined to the western coast of the mainland in 1972 by a man-made causeway built from dirt excavated to form the Rodney Bay Marina. Climb to the top of the peak to explore the relics of Fort Rodney, once used by the British to spy on French ships from nearby Martinique. Also, keep your eyes peeled for several species of hummingbirds native to the area.
Wet your whistle and taste the local cuisine.
No visit to the Caribbean would be complete without partaking in a bit of rum. Most bars will serve house cocktails containing rum, but for an extra special taste of St. Lucia, order a Lucian Slammer. Just make sure you sleep it off before you next set sail!
Foodies will be thrilled to learn that St. Lucia is particularly rich in diverse cuisine—with a mixture of French, English, and East Indian influences. For lunch, check out Castries Market, voted one of National Geographic's Top 10 Food Markets, and sample all of the goodies from the different stalls. This market has been open since 1894, and you'll have a blast watching the locals haggle in Creole and discovering fruits and spices unique to the island.
For dinner, be sure to sample green fig and saltfish, the national dish of St. Lucia. A quick heads-up: when the St. Lucians say, "green figs," they actually mean green bananas, which makes this dish sweet, salty, and savory. Sample a cup of Callaloo soup, an intriguing take on comfort food made with callaloo leaves (similar to spinach), okra, chilies, corned beef, and crab meat. Another recommendation: St. Lucian Lambi, a popular Caribbean delicacy made with conch. Finally, never pass up a lobster barbecue!
Get loco with the locals!
Every Friday evening, the town of Gros Islet hosts a party they call a "jump up". They close the street, bring in giant speakers, crank up the music, light the barbeque pits, and set up portable rum bars. Enjoy stall after stall of local food (try the kidneys on a stick) and bottomless mugs of punch and Pitons, St. Lucia's local brew. Then make new friends as you join the locals and dance the night away!
Hidden Gems of St. Lucia
By Peter Greenberg, Travel Editor for CBS News
Dolphins, The Pitons, and the History of Pigeon Island
Holiday Sailing in St. Lucia