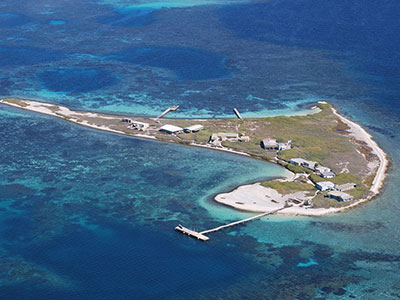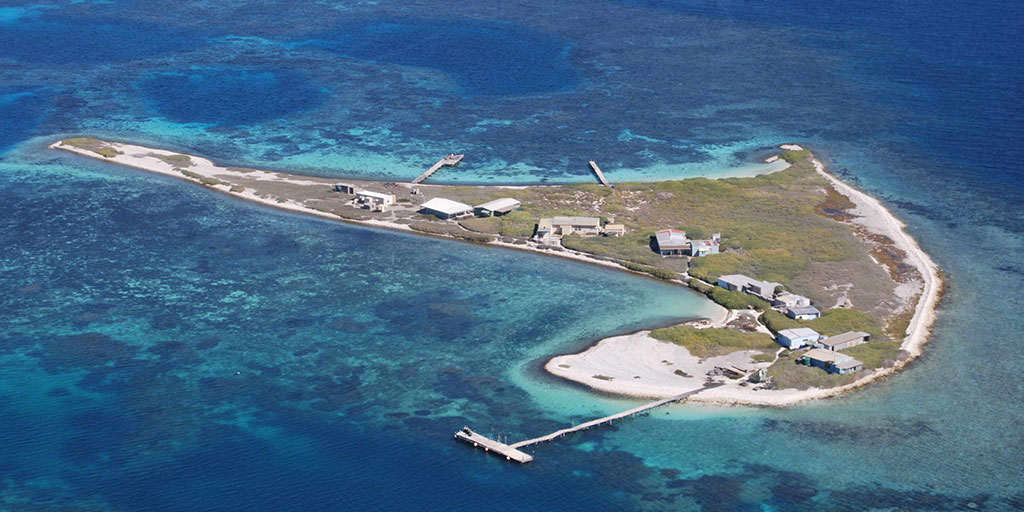 How to Explore and Enjoy the Houtman Abrolhos Safely
by DAN Boater
Pristine waters…squeaky white sand…close encounters with marine life…watery graves…sunken treasures. Intrigued yet?
If you're seeking an off-the-grid, under-the-radar bucket-list trip, look no further than Houtman Abrolhos — aka the Abrolhos Islands. Situated about 60 kilometers west of Geraldton on the Western Australian coast, this coral-fringed archipelago of 122 islands is one of the Indian Ocean's most dazzling jewels.
The Houtman Abrolhos are as amazing from the air as they are from the water
Remote and rugged, yet rich in maritime history, the Abrolhos are composed of three main island groups — Easter, Pelsart and Wallabi — collectively known as the "Graveyard of Ships." In 1629, the infamous Batavia ran aground here on her maiden voyage from Holland. Most of her crew and passengers survived, only to face horrendous mutiny in which 125 men, women and children were slaughtered while awaiting rescue.
Pascale shares the tragic story of the Batavia (Begins at 14:03)
At least 20 other shipwrecks, including the Zeewijk, have been found in Abrolhos waters, with many more believed to be lying undiscovered.
Paradise Found
An aquatic playground, the Abrolhos are famous for top-notch fishing, diving, snorkeling, windsurfing and swimming—not to mention an incredible diversity of bird life and marine life. Expect to swim with sea lions, frolic with bottlenose dolphins and marvel at migrating whales.
Hanging out with the seals in the Easter Group of islands (Begins at 9:52)
Overhead, a whopping two million-plus birds breed on these islands; on land, wallabies play hide-and-seek in the thickets. But the real magic beckons beneath the islands' translucent waters.
Go Fish!
Anglers, listen up! Although the Abrolhos Islands are mostly renown for rock lobsters, a kaleidoscope of other species just a cast away is staggering: Spanish and shark mackerel, yellowfish tuna, various species of cod, coral trout, yellowtail kingfish, baldchin groper, pink snapper and Sampson fish—to name a few.
Specific fishing restrictions, including daily bag limits and minimum legal sizes for the Abrolhos, can be found here.
Take the Plunge "Down Under"
Equally impressive are the Abrolhos Islands' vibrant coral gardens, created by the effects of the warm Leeuwin current, which allows over 190 different types of coral and countless species of tropical fish to thrive where they wouldn't normally survive. There are four marine sanctuaries within the island group and seven self-guided dive trails, including one (in the Wallabi Group) that will allow you to explore the remains of the Batavia.
The Abrolhos has a diverse array of fish species and other marine life.
When to Go
The best times to visit the Abrolhos Islands are between February and June and September/October, when weather conditions for boating are most favorable. Expect a Mediterranean climate with warm dry summers and cooler wet winters. Regardless of season, however, in the Abrolhos Islands, it is nearly always windy.
The best fishing occurs between March and August when rock lobster fisherman inhabit some 22 (of the 122) islands. Their small colorful shacks that hug the jetties above the white-washed coral outcrops are enticing, but keep in mind that these are private properties—so no trespassing. Visitors can only go ashore on these inhabited islands by personal invitation.
Regardless of when you go, you need to let the Department of Fisheries in Geraldton of your intention to visit the islands by submitting an online notification form—and failure to do so may result in a $500 fine. In addition to letting officials know the time, duration and purpose of your visit, this form also enables them to contact you, or your friends and family in the event of an emergency.
Getting There
Since huge chunks of the Abrolhos Islands are nearly deserted, you must travel well-equipped and be self-sufficient. This means carrying enough food, fresh water and fuel to last the length of your stay. Your boat must also be fitted with communication devices and waste-disposal storage and equipment.
Another important heads up: Domestic pets are prohibited—both on land and aboard your vessel—when visiting the Abrolhos Islands.
Where to "Park"
Limited numbers of public moorings are located within each of the island groups, but there's no reservation system, so you can't reserve a spot in advance. Public moorings for overnight use are designed for vessels up to 25 meters in length and up to 40 tons in weight, although ratings and condition of moorings are not guaranteed. Always check moorings for condition of use, as some are set for certain wind conditions and for day use only.
When moorings are not available, officials recommend anchoring in areas of sand and mud bottom, taking special precautions to avoid reefs and seagrass areas. Before deciding on an anchorage, assess the prevailing weather conditions, and use current charts and navigational aids, where available, to prevent impact and propeller damage to this underwater wonderland.
Become an Eco-Tourist
The Abrolhos Islands are an A-class Reserve managed by the Department of Fisheries, and in 2016, they were designated an ocean Hope Spot by the ocean conservation organization, Mission Blue. Spearheaded by world-renown oceanographer Dr. Sylvia Earle, the Mission Blue Hope Spot program is a global campaign designed to build public awareness, support and, where necessary, protection for special places that are vital to the health of the ocean.
Conservation, innovation, and adventure work beautifully together in the Abrolhos
To do your part in protecting these magnificent natural resources, follow the Islands' Code of Conduct. And to avoid damaging vegetation, bird-breeding areas and coral reefs, be sure to:
Follow the recommended Clean Vessel Policy before heading to the Island, as the most common way pests and diseases arrive is via people, the hulls of vessels and in fishing and diving gear.
Check everything (backpacks, clothing, footwear and food containers) you bring to the Islands for rodents, insects, plants, soil and seeds.
When exploring ashore, keep to existing tracks and to beaches and rocky shorelines.
Avoid standing on corals and fragile marine life.
Leave shells, reef fish and animals as they are.
Stay Safe
The Abrolhos Islands are classified as "offshore or open sea" (over 30 miles offshore). Thus, all vessels should have survival and safety gear on board in line with marine safety regulations for open sea—including life jackets, flares and a distress beacon (EPIRB).
These islands are low lying and surrounded by extensive reef systems. In fact, it was believed the name Abrolhos means "keep your eyes open" in shortened Portuguese. So, take the latest nautical charts of Abrolhos waters with you, and consult these for depth soundings, navigational aids and location of public moorings.
Plan to arrive in daylight to best negotiate the Islands' notoriously treacherous reefs. Even steering into late-afternoon sunlight can be challenging, as reefs and shallows are difficult to detect under these conditions.
Familiarize yourself with radio communication from the Abrolhos Islands to the mainland (good radio coverage map here), as well as rescue and support services overseeing the area. Two Marine VHF radio repeaters—one on Rat Island (Channel 81) and another on the Moresby Range (Channel 82)—are monitored 24/7 by the Department of Fire and Emergency Services and the WA Volunteer Marine Rescue Group.
Be aware that the Abrolhos Islands are subject to cyclones (typically, these occur once every three years, usually between January and April). In the event of the Bureau of Meteorology issuing a "Blue Alert" or "Tropical Cyclone Watch" warning for the Islands, you should immediately return to the mainland. Weather forecasts and warnings are available for marine areas by fax, radio and online. Geraldton Volunteer Sea Rescue broadcasts frequent weather schedules on VHF channel 73.
Be Prepared
Becoming a castaway from the modern world for a few days (or more) definitely has its perks, but should you need emergency medical services in the isolated Abrolhos Islands—such as first-aid tips from a medic, transportation to the closest hospital, or help getting back home for better-quality medical treatment—your best bet is signing up for an annual DAN Boater membership. You may never need to use these benefits, but when an emergency occurs, you will be glad to have a knowledgeable and experienced partner to help you every step of the way!
Chart Your Course with DAN Boater Protection
Join thousands of members who rely on DAN Boater for 24/7 medical emergency assistance everywhere they travel.
JOIN NOW