With more than 35 years of handling medical emergencies around the world, including more than 10,000 emergency medical evacuations, 100,000 emergency calls fielded, and 300,000 medical resource hours on duty, DAN knows how to keep you safe during your travels.
Your DAN Boater membership provides a host of valuable benefits while also supporting DAN's mission of providing emergency medical assistance and promoting personal travel safety.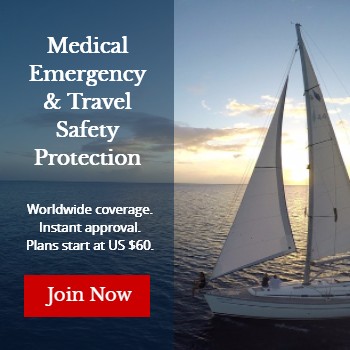 What's included in a DAN Boater membership?
DAN Boater benefits are available 24 hours a day every day for any covered members traveling at least 50 miles (80 kilometers) from their primary residence as listed in the DAN database.
What does an annual DAN Boater membership cost?
$60 for Individuals, $100 for Families
Families include:
You
Your spouse or cohabitant
Dependent children under the age of 24
Does DAN Boater membership cover my medical costs?
Your DAN Boater membership is not a medical insurance policy. It will not pay for medical treatment or loss caused by, or resulting from, sickness/illness or injury of any kind.
If you need coverage for unexpected medical expenses that occur while traveling outside your home country, take a look at our DAN Boater Travel Insurance options.
How quickly can I expect to receive confirmation and coverage?
DAN Boater membership enrollment is real-time. You will receive an email confirmation immediately after completing your online application.
Is DAN Boater membership restricted by geographic location?
You are eligible to apply for membership if your primary residence is in the United States or its territories, Canada, or the Caribbean region.