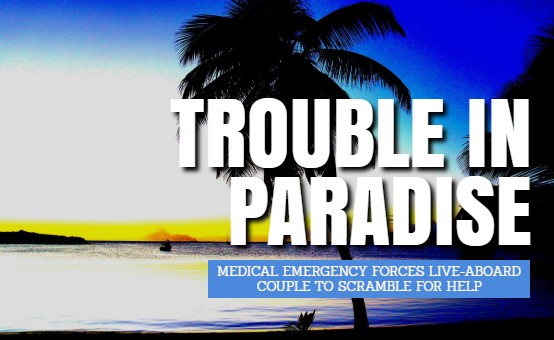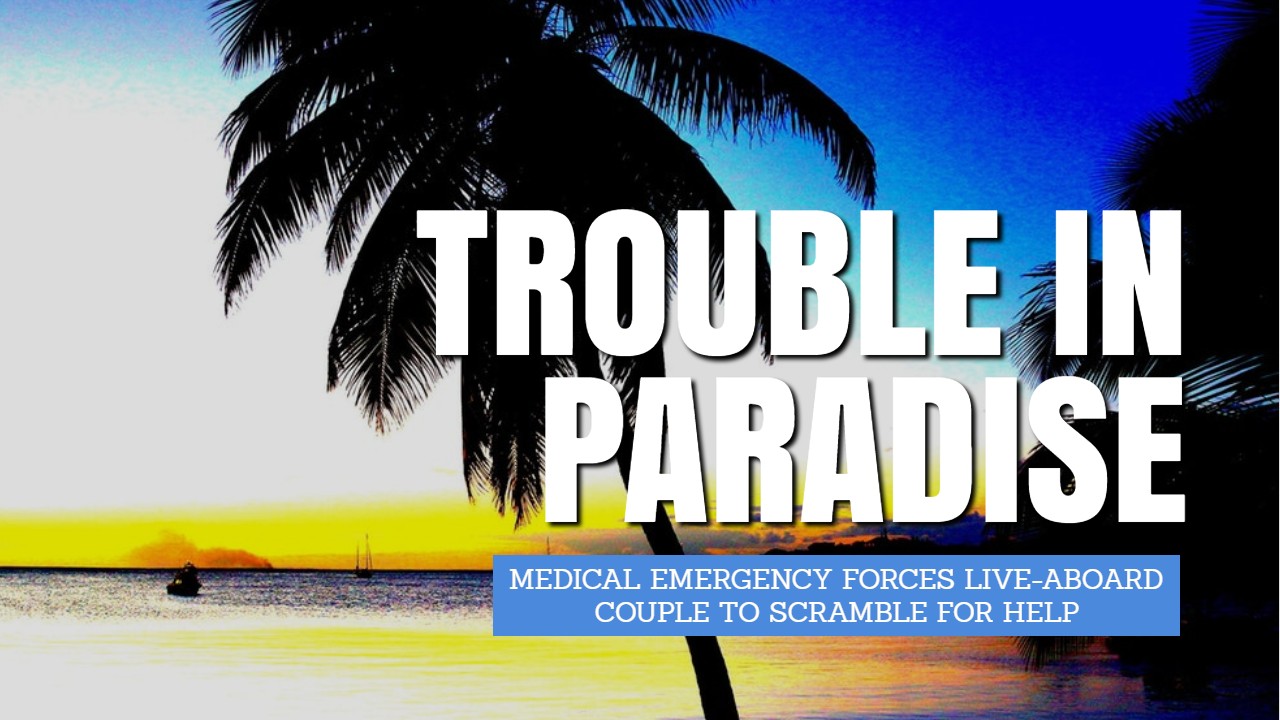 Trouble in Paradise: Medical Emergency in George Town Forces Liveaboard Couple to Scramble for Help
On February 19, 2017, my husband, Gary, and I had just finished dinner and were looking forward to some chill time aboard our Beneteau 49, Second Sojourn. We were anchored in George Town, located on Great Exuma Island in the Bahamas, and it had been a particularly exhausting week.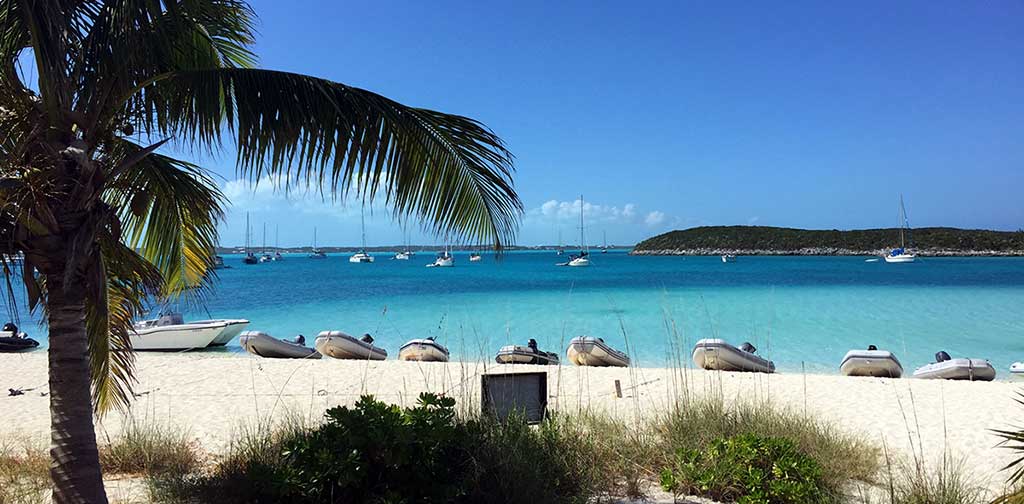 Sailboats anchored in George Town on Great Exuma Island
Gary's back had been bothering him, requiring a quick flight to Fort Lauderdale for an MRI. While we were awaiting those results, our beloved cat, Hobie, began having trouble urinating—and with every attempt to do so, he'd wail. I recognized the symptoms right away as a blocked urinary tract and knew that if it was not treated immediately, he could die.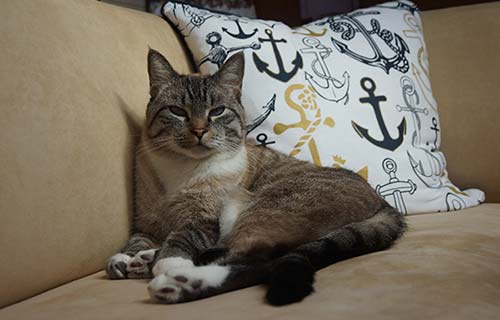 Hobie, the feline member of the crew
Veterinarians are a rarity on the islands, with most visiting George Town just one day a week. So, I booked an immediate flight to Nassau, then cabbed it to an emergency veterinarian clinic about ten minutes from the airport. The wonderful Dr. Grant agreed to take Hobie to the main vet hospital in Nassau and keep him there for five days of treatment. On my way home, I picked up some provisions—as well as a cane for Gary—before boarding my flight, then a taxi to the waterfront, then a water taxi back to the boat. I was beat and ready to sink into the couch next to Gary and watch some TV.
Our peace and quiet was short-lived. Midway through an episode of Downton Abbey, Gary started complaining of intense gastrointestinal pain. I fed him antacids. I gave him a heating pad. Finally, he managed to get some sleep. But by morning, he was worse—and writhing in pain.
I was at a total loss regarding what to do, but I remembered meeting an ER doctor on the beach at a recent get-together in Warderick Wells. I was fortunate enough to reach him on the VHF. He jumped in his dinghy, examined Gary, and gave a preliminary diagnosis of either diverticulitis or colitis of some sort. Then he cautioned us to get to the local clinic for a CAT scan.
I arranged for water and land taxis to get us there, and it was an excruciatingly painful trip for Gary. Worse, the clinic had no ability to diagnose anything! There was no X-Ray machine, no CAT scan, no MRI. All they could do was keep Gary sedated with morphine (Can I have some, please?) and advise us to get him to a hospital in Nassau or Fort Lauderdale. But Gary was in such agony that a commercial flight was out of the question.
I was beginning to feel a bit frantic when the clinic administrator uttered these magic words: "Do you have DAN by chance?"
Eureka!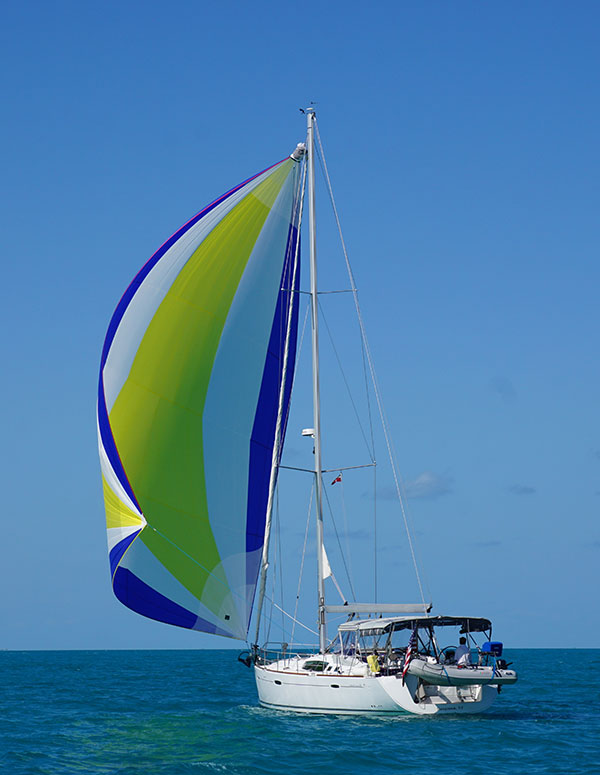 The Tisdale's Beneteau 49, Second Sojourn
Hands down, the smartest thing we have done since becoming live-aboards was to sign up with DAN Boater. For $100 per family, per year, they cover emergency evacuation to the nearest treatment facility. I pulled out my membership card, made the call, and everything was taken care of. They arranged for a private jet to take us to Nassau, along with ambulances to transport us from the clinic to the George Town airport and from the Nassau airport to the hospital. I was so grateful to be able to fly with Gary, which was also covered by DAN Boater.
On board, there were two pilots and a paramedic who continued to administer Gary pain meds, and at Doctor's Hospital in Nassau, he was seen almost immediately. The diagnosis was severe colitis—likely caused from all the medications Gary was taking for his back. The doctors kept him for three nights to monitor him and make sure the inflammation was under control.
During his hospital stay, someone from DAN Boater called both Gary and me once or twice a day to see how we were faring and to ask if there was anything else they could do for us. They served as a liaison between us and our health insurance company, and they arranged and paid for a commercial flight back to the boat once Gary was released. There were no forms to fill out, no papers to sign, and no red tape to wade through. From that initial phone call, they literally took care of everything.
In fact, we never even got a bill for the $9,000-plus worth of services we received. Not a bad return on a $100 investment!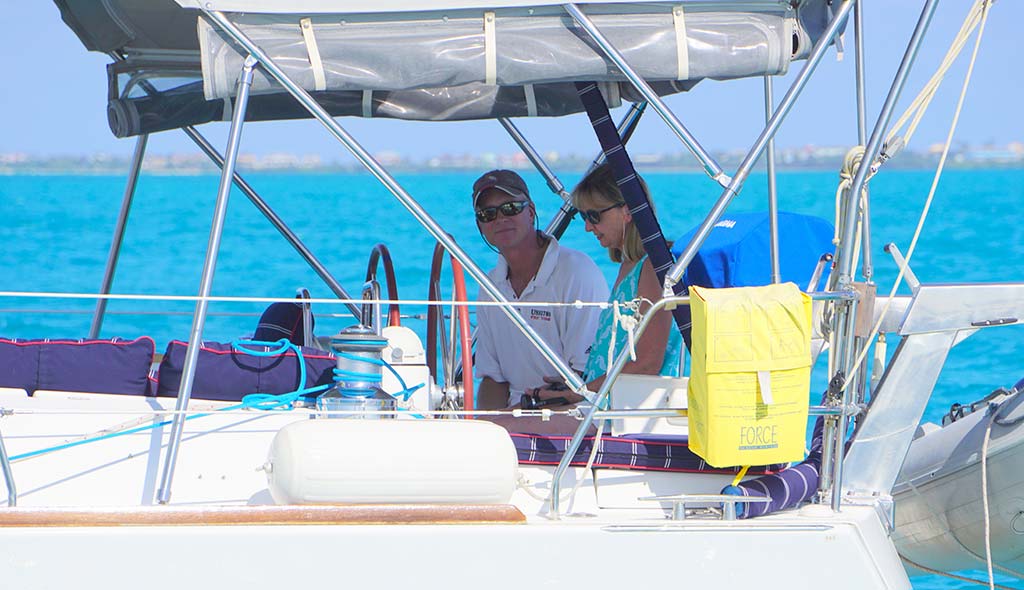 Gary and Melanie continue their sailing adventures aboard Second Sojourn
These days, whenever Gary and I attend cocktail parties on the beach with fellow cruisers, the first question we always ask is, "Do you have DAN Boater?" Just the other day, we signed three people up! We also encourage our visitors on the boat to get a membership, because you never know when you'll need it.
Now, if someone could only create a DAN membership for pets like Hobie!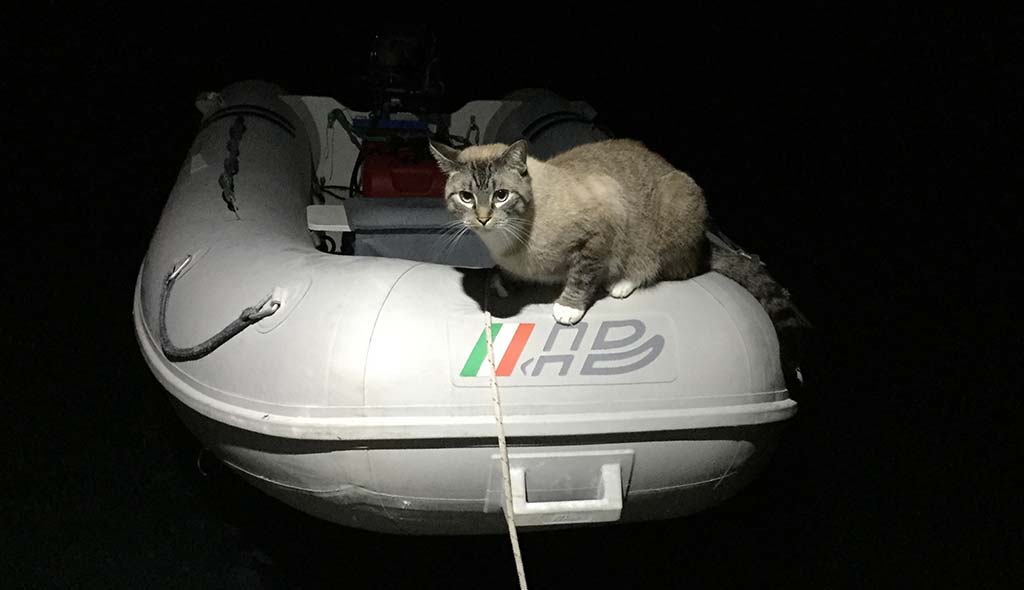 Hobie resumed his duties, keeping the dinghy shipshape and ready for action.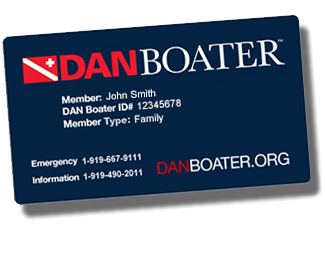 Get Help with Sudden Illnesses While Traveling.
Join thousands of members who rely on DAN Boater for medical information in the field, emergency medical evacuation, and repatriation for better care. 24/7 assistance with unexpected injuries and illnesses any time you travel.