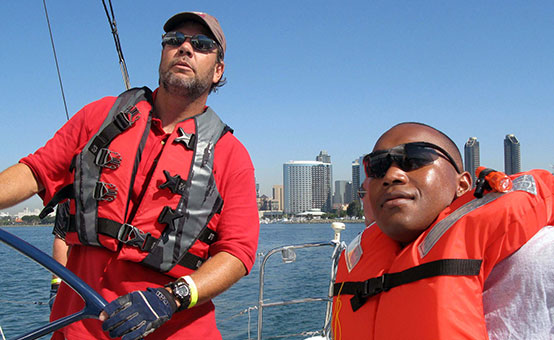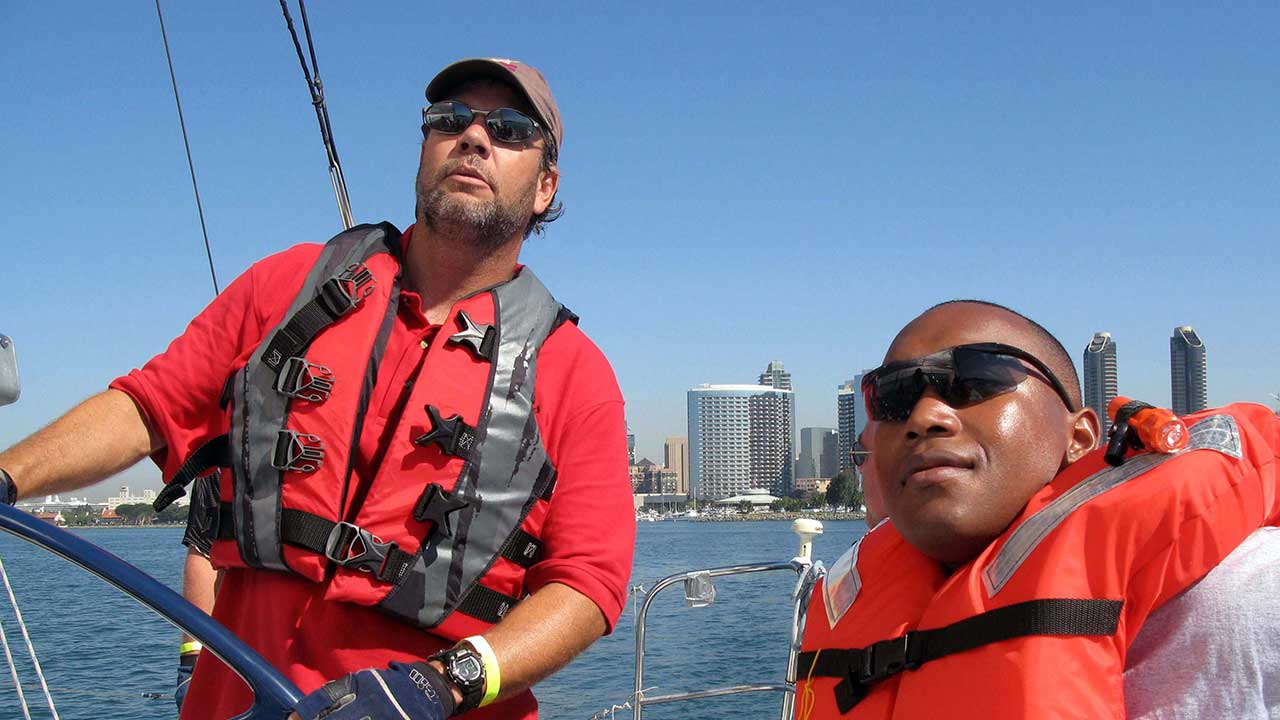 A volunteer from Challenged America teaches Marine Cpl. Sherman Watson how to adjust sails on a 43-foot racing sailboat. DoD photo by Donna Miles
Boat Guest Safety: Smart Tips and Expert Advice to Help Keep Everyone Safe
By DAN Boater
One of the many pleasures of boat ownership is the opportunity to invite friends and family aboard for a day—or more—of fun on the water. But being a host with the most comes with responsibilities. Whether you're planning a short hop across the harbor or lake, an all-day sailing, diving, or fishing trip, or an extended off-shore cruise, you're obligated to keep everyone on your boat safe.
Here, according to charter captains, liveaboards, and boating safety experts, are the best ways to do that:
Boat Guest Safety Checklist

Tip #1: Plan ahead.
A safe and enjoyable boating trip begins well before your guests step aboard. To ensure your vessel is in shipshape—and to prevent problems before they arise—Kim Brown, author of Checklists for Sailors – Passage Planning, Sailboat Maintenance, Cleaning, Medical and More, recommends following a pre-departure checklist. This includes tasks like checking fuel and oil levels, inspecting bilges for leaks, and testing electronics. Also, if you're traveling at night, ensure that all lights are working and that you have plenty of emergency signaling devices (flares, flashlights, strobes, etc.) on board.
Make sure your ditch bag and first aid kit are fully stocked. Pack plenty of water, juices, and soft drinks to avoid dehydration and extra sunscreen to prevent sunburns. Add seasick remedies to your supply list as well, in case any of your guests become queasy.
Finally, file a float plan and leave it with someone you know and trust so they'll know where you're going, who's aboard, and when to expect you back.

Tip #2: Check the weather conditions.
Before casting off, check the NWS marine forecast for both the areas you're departing from and your destination. "Don't hesitate to cancel or postpone your plans in inclement weather," cautions Captain Jordan Messick, who operates Tall Tail Charters out of Wilmington, North Carolina. "If weather or sea conditions are not safe, we always reschedule—or provide refunds. It's better to be safe than sorry." Keep your VHF radio on at all times when out on the water. Even on picture-perfect days, Mother Nature can surprise you with pop-up storms, and this way you'll get alerts.

Tip #3: Brief your guests.
Having guests on board a boat is different than having house guests. They need to be prepared. Tell them where they'll be going, approximately how long they'll be gone, and what they can expect. "We always send an email to guests detailing our safety procedures and encouraging them to become familiar with these before they arrive," says Erin Carey of Sailing to Roam. "The email also details what they should bring, what to wear on the boat, the fact that they should avoid wearing jewelry while underway and the importance of sun protection."
In addition to plenty of sunscreen, advise your guests to pack spare clothing (in case they get wet), rain gear, and an insulated jacket—since even on warm sunny days, winds on the water can cause chills.
Proper footwear is a no-brainer. "Although many cruisers go barefoot while out on the water, wearing non-skid shoes on deck helps prevent the potential for slips and falls. Guests without much on-the-water experience especially benefit from this policy, as it aims to reduce the number of onboard injuries," writes Susanna Botkin in Southern Boating. "Slipping and falling on a moving vessel ranks among the top factors in the USCG Statistic report regarding bodily injury incidents."
Finally, encourage your guests to eat before coming aboard. "You never want to tackle rolling seas on an empty stomach, but you don't want to be stuffed, either," say Nick Fabbri and Terysa Vanderloo, video bloggers of Sailing Yacht Ruby Rose. "To sidestep seasickness, advise your guests to have a stodgy, solid meal (such as oatmeal, bagels, pancakes, etc.) before boarding and then make sure they 'graze' throughout the day and drink plenty of water. "We try to have sandwiches made up before leaving and easy-to-reach snacks (like apples, granola bars and crisps), as well as full bottles of water in the cockpit," they add.

Tip #4: Quiz your passengers.
Touch base with all guests a few days ahead of time to get their emergency contact information so you can add it to your float plan. Also ask each guest about any physical limitations, health issues, and if they are currently taking any medications, advises Brown. "If someone is asthmatic, epileptic, diabetic, or has heart complications, it's better to know that from the start rather than finding out during a complication." Remind guests to bring any medications they might need with them and to pack extra pills. "Passengers may get seasick and vomit pills up on the boat, so bringing extras is always a good idea," adds Brown.
"Ask about food preferences, food allergies, and dietary restrictions as well, says Nica Waters, host of The Boat Galley podcast. That way, you can avoid safety hazards and plan menus accordingly.
Adds Captain Kelly Gordon of Beaufort, North Carolina-based Everest Yacht Charters, "Also ask your guests if they have boating experience. Can they swim? Do they have a tendency to get seasick?"

Tip #5: Give them the grand tour.
"Once aboard, show your guests where the personal flotation devices (PFDs) are stored and how to wear them," says Captain Gordon. In fact, all guests should ensure their PFD fits correctly before taking off. And children under 12—as well as all non-swimmers—should wear their PFDs at all times. Continue the familiarization tour by pointing out where the fire extinguishers, first aid kit, ditch bag, and other safety gear is stored.

Tip #6: Play safety "show and tell".
Approximately 36% of all boating fatalities are a result of people falling overboard. If this happens on your vessel, you'll need the help of all on board to ensure a quick, calm and safe rescue. For this reason, explain and briefly practice the Man Overboard (MOB) procedure you prefer your guests to follow. Sometimes this is as simple as having everyone practice yelling, "Man Overboard" as loudly as they can and knowing where to find—and how to toss—a lifeline. "On board Shawnigan, everyone is shown how to use the MOB button on the GPS," reports boat blogger Josie Lauducci, who has been cruising the world with her husband and three children since August of 2015.
Give safety demos of all tenders and toys, as well as instructions on how to stay balanced once underway. "We literally teach our guests how to step on and off the dinghy, what to hold onto as they walk to the cockpit, how to hold on with two hands when climbing down the companionway steps, and to always be aware of the movement of the boat," says Carey.

Tip #7: Share "house" rules.
To avoid mishaps, all guests should be instructed to keep both feet and at least one hand in contact with the boat at all times. "I also caution guests not to touch, adjust or play with anything on the boat without asking me if it's okay—and how to do it properly," says Wally Moran, former charter captain and now host of Facebook's popular Sailing and Cruising group and Coordinator of the annual Sail to the Sun ICW Rally.
Also share your policy on alcohol, which is the leading known contributing factor in fatal boating accidents. Some skippers allow guest to imbibe but set limits to keep everyone safe. For others, like Moran, the rule was: "No alcohol consumed by anyone on the boat until we are at anchor for the night."

Tip #8: Remind everyone "Who's Boss".
It's important that guests understand you are responsible for the boat and their safety. This means no distractions during times you must remain focused—in inclement weather or while docking, for example. According to the U.S. Coast Guard's latest recreational boating statistics, operator inattention is ranked as the number one primary contributing factor in all boating-related accidents, injuries and deaths.
Above all, make your guests understand that whatever you say goes, particularly in an emergency. "I'd tell guests there was one person who called the shots on everything that happened on board—and that was me," says Moran. "If I said sit down and do not move, I meant it, and there was no questioning that. I wasn't mean about it, but explained that should there be a situation where I had to act quickly, people had to be out of my way, listen to everything I had to say, and do whatever I asked them to do. It was the only way to guarantee the safety of every guest on board."