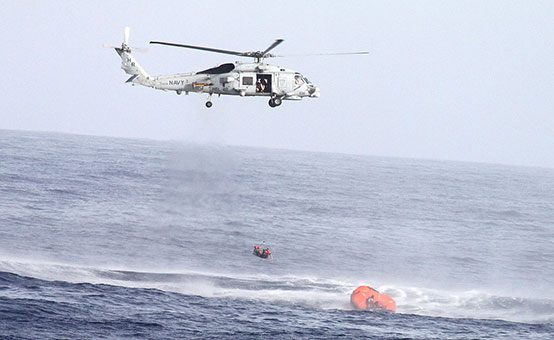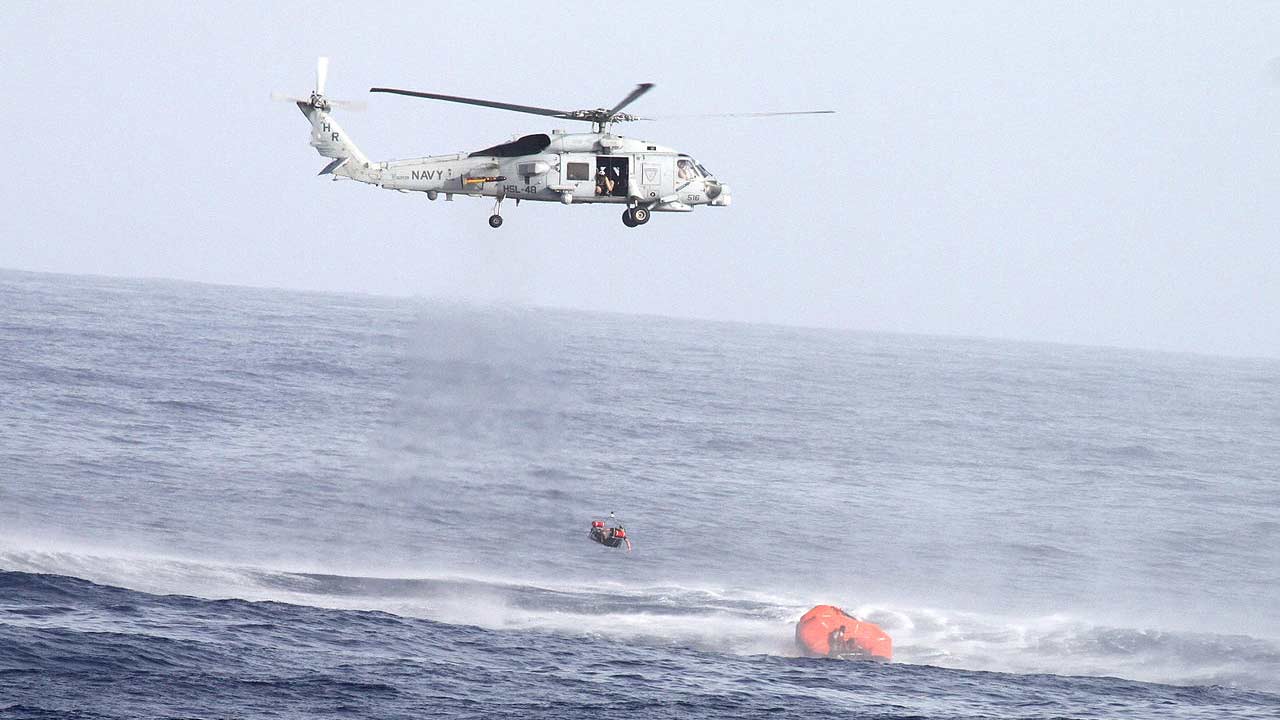 Rescue at Sea: 20 Things You Can Do Right Now To Be Better Prepared
By DAN Boater
Nobody leaves the dock thinking they're going to need search and rescue services. But anytime you get underway, you face the possibility of danger. Here's how to avoid problems in the first place—along with expert advice on how to get the help you need if you find yourself in trouble when out on the water.
Be an educated boater. The time it takes for search and rescue is not the same as the 10-15 minutes we're accustomed to on land. "If you're 20 miles offshore and you call, 'Mayday, Mayday, Mayday,' getting rescued in 15 minutes is not a realistic expectation," says Miami Beach Coast Guard Commanding Officer, Lieutenant Michael Cortese. "Boaters are always their first, best line of defense." So, complete first aid and boating-safety and operation courses. Understand the boating rules of the road and know your craft—including how to complete routine repairs. "Check into USCG Auxiliary and America's Boating Club (a.k.a. US Power Squadrons) near you for classes or online education," advises Captain Chris Caldwell, owner of Captain Chris Yacht Services, who trains boat owners in vessel operation and basic maintenance.
Complete pre-trip inspections of your boat, its equipment, and your safety and communications equipment. Take advantage of free certified Vessel Safety Checks offered by both the U.S. Coast Guard Auxiliary and America's Boating Club at a time of mutual convenience.
Keep a close eye on weather conditions and take prompt action to cancel a trip—or if already out on the water, find a safe harbor to ride out the storm. Before heading out, check the NWS marine forecast, and keep your VHF radio on when you're out on the water. That way, you can get alerts on what sort of weather is expected in your area. Use your radar to watch rain clouds' directional travel, or use a smart phone app such as Radar Now. "Note that these only show rain clouds, not wind or waves," cautions Caldwell. "Consider using the WX feature on your VHF Marine Radio. This weather feature offers 10 channels of local weather. Dial through the range from 1 to 10, and the strongest signal is nearest you."
Have the tools and skills to navigate safely if your GPS fails. Complete a basic navigation course, carry a compass, and have current charts for the area, as well as binoculars, paper charts, and cruising guides.
File a detailed float plan with friends or family—and ensure they understand what to do and who to contact if you are late returning. Always include a photo and detailed description of your boat. "Keep in mind the aircraft are flying fast and need the most accurate information you can provide," says Caldwell, "so the more details, the better."
Learn as much as you can about the area and your route—especially if you're traveling in unfamiliar waters. Talk to local authorities or other boaters about potential hazards and boating challenges. Waterway guides are great for this information, either in book form or online. "Always do research online before you start your cruise, as you may not have Wi-Fi or a cell signal out on the water," advises Caldwell.
Assemble a ditch bag or an abandon-ship bag. Label it clearly, keep it readily accessible, and inspect the contents before every trip to make sure everything is present, in good condition, and operable. "When you only have a few seconds to get in the water or a life raft, this grab-and-go bag—and its contents—become your lifeline," says boating safety expert Captain Henry E. Marx, President of Landfall, which offers a comprehensive curriculum of classroom courses for recreational and professional mariners on topics of boating and seamanship.
Pack a personal emergency bag as well. Include copies of your driver's license or passport for ID, vessel registration and insurance, copies of prescription medicine and credit cards, spare eye glasses and a travel-size first aid kit, (separate from the usual first aid kit for the boat), Caldwell advises.
Prepare passengers with basic emergency information/instructions. Ensure that all aboard know how to use safety equipment, know where the ditch bag is, and how to use the radio for emergency communications. Check your state laws regarding what age children are required to wear PFDs. Make sure everyone on board has immediate access to a PFD that fits properly, and that everyone knows how to use these in the event of an emergency. "One of my pet peeves is seeing a life jacket tucked under a seat or still in the plastic wrapper," say Cortese. "It's the equivalent of planning to put your seat belt on after an accident."
Test your marine handheld VHF radio. "The easiest method of radio check is to radio your marina, switch to a working channel, and tell them you are asking about their closing time or price of fuel," says Caldwell. "This radio check is accurate, uses multiple channels and proves it functions properly. Do NOT use channel 16 for a radio check. Do make sure batteries are fully charged before casting off from the dock."
Take advantage of DSC Technology. "Digital Selective Calling (DSC) has been built into every VHF marine radio for more than 15 years, yet most boaters I talk to don't know what it is, and fewer still understand its capabilities or its value," says Mario Vittone, a retired Coast Guard rescue swimmer and educator who now teaches boat owners how to prevent emergencies and how to deal with them if they do occur. "If your boat has a radio, chances are you have the ability to—with the push of a few buttons—tell the Coast Guard who you are, the name of your vessel, your exact location, and the nature of your emergency while simultaneously sending a distress message to every vessel within line of sight," says Vittone. "Your EPIRB can't do that. Your satellite phone can't do that. AIS can't do that." But your radio can't do any of this if you don't set it up properly.
Test/register your Emergency Position Indicating Radio Beacon (EPIRB). It's not enough to simply have an EPIRB aboard—you need to know how to use it. "Just like your VHF radio, your EPIRB needs to be registered with NOAA, and the registration must be updated at least every two years or whenever contact information changes," says Vittone. "It's the vital information in that registration that tells the search and rescue teams what they are looking for."

The registration allows you to list two emergency contacts, with as many as four phone numbers each. "The most unused field in EPIRB registrations is the 'additional data' field," Vittone reports. "It's a 500-character space where you can write whatever you want, whenever you want to update it, such as, 'Leaving 08-12-17—0800—from Apollo Beach, heading for Dry Tortugas. 4 POB.' Or, you can act as your own best emergency contact and provide a link to your float plan."

At sea, in an emergency, is no time to be reading the directions, adds Vittone. "If you haven't practiced activating your EPIRB, then you will not be good at using it during an emergency. Though you should not actually activate the EPIRB to test it, you should inspect it and follow your EPIRB's testing guidelines monthly. If you are not removing the EPIRB from its mount every month, completely, then you are not inspecting your EPIRB. Get on it."



EPIRB Signal Leads Rescuers to Family Adrift at Sea
Watch how the US Coast Guard relied on an EPIRB to quickly locate and rescue a family floating helpless 12 miles from shore in shark-infested waters.



Call for help as soon as you realize you're in trouble. Don't wait until things worsen. Push the emergency button on your DSC-equipped radio, or use your VHF radio—not a cellphone—to contact the Coast Guard, as this enables you to reach a wider swath of potential rescuers—even nearby boaters who may be able to reach you more quickly. Also make sure you call on channel 16, which is monitored by the Coast Guard round-the-clock.
Be prepared to provide the information the Coast Guard needs immediately. This includes: the name of your boat, your location, a description of your boat, how many people you have aboard, and the nature of your problem (fire, taking on water, medical emergency, etc.). That way, if you lose radio communication later, they'll already have what they need to act.
Know how to make yourself be heard. Depending on the local situation— including availability—boats, planes, or helicopters may be used during a search and rescue operation. An air horn, steam whistle and even an orally blown whistle can increase your chances to be heard from a distance, says Caldwell. "Remember, the internationally recognized marine whistle signal for danger is five short blasts."
Know how to make yourself be seen. During daylight hours, you can use sea dye markers to increase your visibility from above or a mirror to 'catch' the sun and reflect the sun's rays towards the plane or helicopter, and even, to a less likely degree, a boat. You can also hang a flag upside down, which is a signal of distress. Nighttime options to make you more visible include flares, flashlights, strobe lights, and even flaming PFDs.

A Rescue Streamer can also make a difference, day or night. "Remember, you are as small as a mouse but you want to appear as large as an elephant," says Vittone. "This is exactly what the Rescue Streamer does. Contained in a small holster, a floating polyethylene foil, complete with SOLAS reflectors and chemical lights, can be deployed at the surface. This foil, when opened, is about 7.5m long and 15cm wide, making it possible to be seen from over a distance, thereby increasing chances to be spotted from the sky."
Know how to make yourself bigger and brighter. "If you have spare line, tie it off and let it drift down-current from your vessel, and then tie something else off. Then do it again to create a line of debris that leads back to you. Spare life jackets, seat cushions, empty coolers and life rings are things that aren't going to do you any good on board, but a 20-yard chain of debris trailing behind you could catch the eye of someone else," explains Vittone. "Mount your strobe lights, too, and turn them on. If you know someone is searching for you, then you don't need to worry about conserving batteries. And if you haven't already, turn on your EPIRB. Even if you called for rescue via VHF radio, it will give responders a position. Things can change fast out there, and your EPIRB will give search aircraft a needle to follow, one that's pointing straight at you."
Know when to activate distress signals. "Strobe lights are designed to flash for at least 18 hours, and most LED lights last much longer," says Vittone. "So, turn them on and mount them—even if it is the middle of the day. You don't know how well your hands will work when night falls". Flares, signal mirrors, flashlights, and sea dye markers, however, are much more effective if you know someone is looking in your direction. "Sending up a single flare isn't a bad idea if you think there may be a vessel close enough to see it, but save what you can for searching aircraft and vessels. It is likely that you will see them before they see you, and this is when you should get to work," Vittone adds. "Send up flares, and point your waving flashlights when you are confident that searching eyes are looking in your direction. A helicopter or plane has navigation lights just like your boat's, and it is rare that the occupants are looking backward. So, wait until you are somewhere between the search crew's eight to four o'clock position before popping smoke or burning a flare.
Know what to expect when help arrives. Although every rescue at sea situation is unique -- weather, boat type, presence of injuries -- the basic requirements are the same. It is your responsibility to follow the rescue crew's instructions as quickly and closely as possible.



Tips for Air Lift Operations
This video from Queensland Fire and Emergency Services provides a quick overview of what to expect during an air lift procedure. Follow these tips to help keep everyone -- including the rescuers -- safe throughout the operation.



Plan ahead for unexpected expenses related to emergency services. Most rescue operations conducted at sea are provided as a public service, with little or no charge to the rescued party. But that is not always the case. Depending on the circumstances surrounding the incident, as well as the availability and capability of rescue personnel and equipment in your geographic location, there are times when you may be expected to pay for assistance. In cases like this, it pays to be prepared with search and rescue expense coverage from DAN Boater. In addition to helping you with search and rescue costs, an annual DAN Boater membership also offers peace-of-mind emergency services such as medical evacuation to the closest hospital and repatriation home for better-quality treatment.