COVID-19 and Travel: 6 Things to Consider Before Canceling Your Travel Plans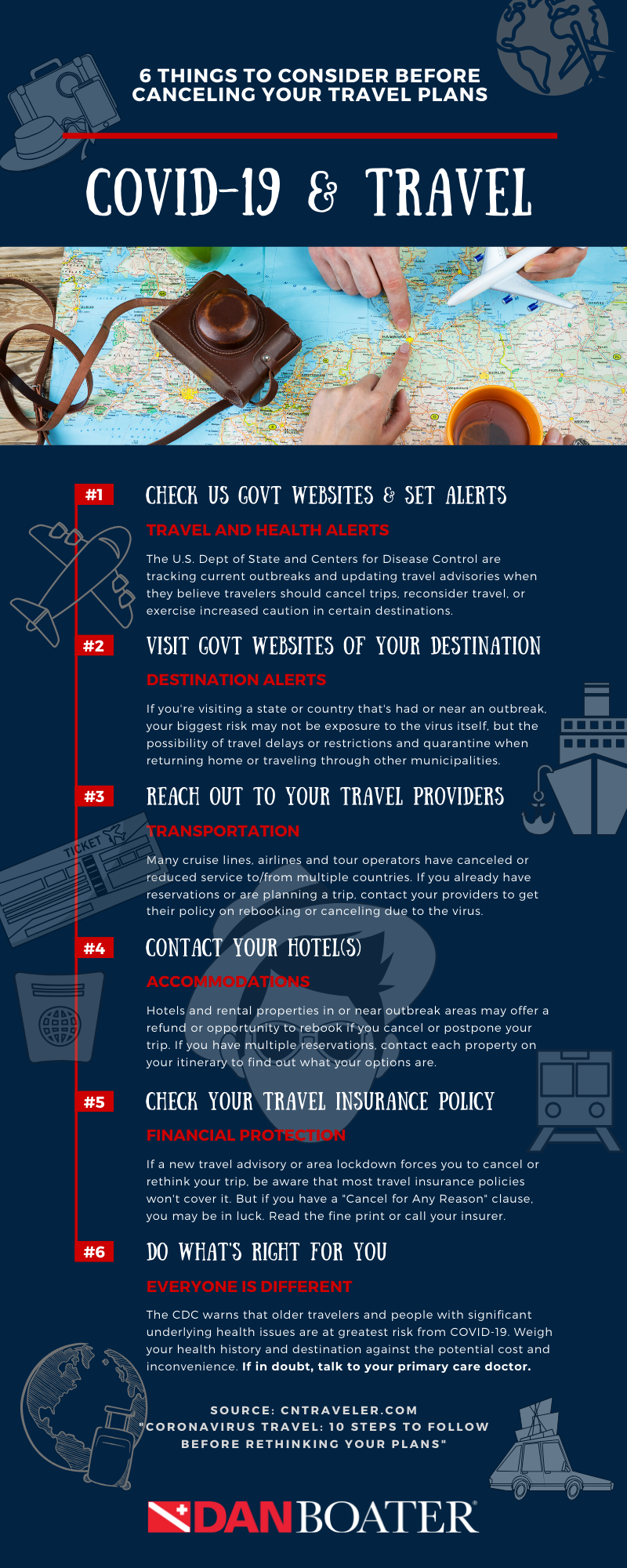 Share this infographic! Copy and paste the code below:
As the coronavirus situation continues to evolve, travelers everywhere are wondering: "Should I cancel my trip?" Whether you booked your trip months ago and you're scheduled to leave next week, or you're considering what to do about the family charter cruise you planned to take later on this year, now's the time to do your homework and consider your options.
"There's no one-size-fits-all-answer," wrote Megan Spurrell, community editor at Conde Nast Traveler, but there's no need to panic, either. The information you need to make an informed decision about your travel plans is out there and you may have options you didn't realize you had. You simply need to know what to look for and when and where to look.
So before you make any snap decisions about your travel plans, take a few minutes to review these tips and then head over Megan's article for more.
Check U.S. Government Websites and Set Alerts. The U.S. Department of State and Centers for Disease Control are tracking current outbreaks and updating travel advisories when they believe travelers should cancel trips, reconsider travel, or exercise increased caution in certain destinations.
Visit Government Websites For Your Destination. If you're visiting a state or country that's had an outbreak, or adjacent to one that has, your biggest risk may not be exposure to the virus itself, but the possibility of travel delays or restrictions and quarantine when returning home or traveling through other municipalities.
Reach Out to Your Travel Providers. Many cruise lines, airlines and tour operators have canceled or reduced service to/from multiple countries. If you already have reservations or are planning a trip, contact your providers to get their policy on rebooking or canceling due to the virus.
Contact Your Hotel. Hotels and rental properties, including Airbnb and VRBO, in or near outbreak areas may offer a refund or opportunity to rebook if you cancel or postpone your trip. If you have multiple reservations, contact each property on your itinerary to find out what your options are.
Check Your Travel Insurance Policy. If a new travel advisory or area lockdown forces you to cancel or rethink your trip, be aware that most travel insurance policies don't cover trips canceled for those reasons. But if your policy's Trip Cancellation benefit includes a "Cancel for Any Reason" provision, you may be in luck. Read the fine print or call your insurer to get the full details.
Do What's Right For You The CDC warns that older travelers and people with significant underlying health issues are at greatest risk from COVID-19. Weigh your health history and destination against the potential cost and inconvenience. If in doubt, talk to your primary care doctor.
BONUS TIP: KEEP ALERT! Official travel-related advisories continue to change rapidly so keep a close on the news and be prepared to change your plans accordingly.
Learn more about COVID-19: