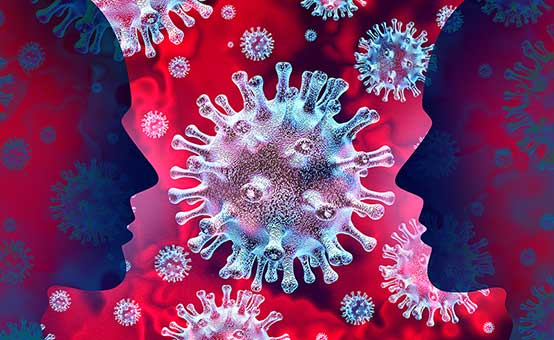 Novel Coronavirus 2019-nCoV (or COVID-19): Here's what you need to know right now
[UPDATE 2/14/2020] The CDC continues to monitor the outbreak of the coronavirus (now known as COVID-19) in the United States. To date, 443 people have been tested in the U.S.: 15 have tested positive, 347 have tested negative, and 81 tests are pending. Visit the CDC's new Coronavirus Disease 2019 (COVID-19) in the U.S. page to see the latest map of U.S. states with confirmed COVID-19 cases.
[UPDATE 2/11/2020] The CDC confirmed a 13th case of coronavirus in the U.S. yesterday. The patient, located in California, had been under federal quarantine after returning from Wuhan, China recently. It is important to note that of the 13 known cases here in the U.S., 3 have already recovered from the virus.
The total number of confirmed cases worldwide as of yesterday is 43,138. Nearly 99% of these cases are still based in mainland China.
The CDC began shipping newly-developed novel coronavirus (2019-nCoV) test kits to select U.S. and international laboratories last week for distribution worldwide.
We will continue to monitor the latest news and advisories on the virus and provide updates on new prevention and treatment advice as soon as they become available.
[UPDATE 2/4/2020] The total number of confirmed coronaviruses cases worldwide climbed to 20,704 as of mid-day today with the majority (over 98%) in mainland China.
[UPDATE 2/3/2020] WHO has declared the novel coronavirus outbreak a public health emergency of international concern, prompting a number of countries, including the United States, to begin evacuating their citizens. The U.S. Department of State issued a Level 4 travel advisory for China. And health officials in California have confirmed three more cases of the virus in that state, bringing the total number of confirmed cases in the United State to 11. As of this morning, the total number of confirmed cases worldwide has exceeded 17,000. Find out what you can do to help protect yourself against the virus here.
[UPDATE 2/1/2020] CDC officials on Saturday confirmed an eighth case of the new coronavirus in the United States, this one in Massachusetts. The global case count is now just over 12,000, with the majority occurring in China. Follow the details on this case, and the California case announced yesterday, below.
[UPDATE 1/29/2020] WHO introduced a new 2019-nCoV outbreak category to its website yesterday. To help keep you up-to-date, we have incorporated the new reports and information from that category into our Advisories and Updates news stream below. We also updated our Locations with Confirmed Cases section to include a link to Johns Hopkins University's Wuhan Coronavirus Dashboard.
[UPDATE 1/27/2020] The director of China's National Health Commission said on Sunday that the incubation period for the novel coronavirus (2019-nCoV) is roughly 10–14 days — and the virus can be transmitted during that time, before symptoms appear. A U.S. infectious diseases expert said this means "the infection is much more contagious than we originally thought," the New York Times reports.
In other coronavirus news, as of Sunday (1/26/2020):
The CDC confirmed three additional U.S. cases — two in California and one in Arizona — bringing the total to five. All have occurred in travelers from Wuhan. The agency noted that while it considers 2019-nCoV "a very serious public health threat ... the immediate health risk ... to the general American public is considered low at this time."
China reported over 2700 confirmed cases, with 80 deaths, according to the Times.
The coronavirus has reached Europe (3 cases in France) and Australia (also 3 cases). The list of locations with confirmed cases is evolving; go here for the latest case totals and locations.
[UPDATE 1/26/2020] This story has continued to develop rapidly, with the CDC confirming 5 cases of the Coronavirus in the United States as of today. To obtain the latest advisories and news, check the Latest News section below.
[Original Article]
Coronavirus has been in the press—and for good reason. Thousands of people in China have been affected. Nearly a dozen cities in China's central Hubei province are facing travel restrictions. Lunar New Year celebrations have been canceled to reign in the spread of the virus. And many public venues (McDonald's) and Chinese tourist attractions (Shanghai Disney Resort, Great Wall of China) have been closed.
What about the U.S.? One man in Seattle has been confirmed with the infection, and a second case involving a 60-year old female Chicago resident who had traveled from Wuhan province earlier this month was identified by the CDC on Friday (Jan 24). A third suspected case is being investigated in Brazos County, Texas, involving a Texas A&M University student who recently traveled to Texas from Wuhan China.
Here's what you'll find in this article:
What is Coronavirus?
Coronavirus is of a family of viruses that has resulted in considerable mortality and morbidity over the years. It is named for the spikes that resemble a crown on the surface of the virus. Other coronaviruses of note include the Middle East Respiratory Syndrome (MERS) and the Severe Acute Respiratory Syndrome (SARS). They are zoonotic, meaning they reside in animal hosts and can spill over and become human infections under certain conditions. MERS was associated with civet cats and MERS from camels. Other coronaviruses have been found in other animals that do not affect humans.
This new strain of coronavirus is thought to have originated at a seafood market in the Chinese province of Hubei in Wuhan city (population 11 million), hence the name Dec 31. One must remember that most people will be infected by one of the less virulent coronaviruses in their lifetime and will have contacted the virus by another's cough or sneeze, hand contact with infected surfaces, or a handshake, and then touching their eyes, nose, or mouth.
Symptoms and Treatment of Coronavirus
Symptoms are like most respiratory viral infections and include sore throat, fever, headache, runny nose, fatigue, and malaise. Laboratory tests are available for suspected cases.
Treatment is supportive. Infections that result in pneumonia are most troubling, as well as those involving the extremes of age and the immunocompromised.
There are no immunizations for Coronavirus currently available.
Protection and Prevention
The World Health Organization (WHO) has already begun monitoring to identify the spread of the virus and has published information on how to prepare for the virus with instruction for monitoring, treatment, and control. Recommendations to prevent its spread are like most respiratory infections. They include:
Avoiding close contact with others who may be ill and who are coughing and sneezing.
Washing your hands with soap and running water (or use an alcohol-based hand rub) frequently—after coughing or sneezing, when caring for anyone who is sick, when preparing food, and before eating.
Avoiding touching your nose or eyes.
Covering your nose and mouth when coughing or sneezing.
Clean and disinfect frequently touched items
Anyone with symptoms should avoid contact with others (stay home if ill). Thoroughly cooking meat and eggs has also been suggested.
[Update 02/03/2020] The CDC and WHO confirmed last week that individuals carrying this strain of coronavirus -- even those without symptoms -- are contagious during the incubation period (2 to 14 days). The discovery has led health officials to recommend these additional precautions:
Avoid close contact with individuals who have recently traveled from China.
Anyone who recently traveled from China should seek a medical evaluation, especially if they are exhibiting symptoms such as fever, coughing, and sneezing.
Since treatment for the 2019-nCoV coronavirus is supportive -- there is no cure or vaccine at this time -- individuals who have not yet been exposed should consider getting vaccinated against possible secondary complications from pneumonia and influenza.
Be aware of travel restrictions
"Although the World Health Organization has not yet declared a global health emergency, with 630 infected and 18 dead in China, the CDC now warns of non-essential travel to Hubei Province, China, including Wuhan, where the outbreak is thought to have begun," reports DAN Boater Medical Director, Jim Chimak, M.D. "Transportation systems have been shut down in Wuhan and neighboring Huanggang."
No matter where you're traveling, be prepared to change travel plans, as individual countries may impose travel bans and restrictions as the situation changes, adds Dr. Chimak. "Screening at major airports such as Chicago, New York, San Francisco, Atlanta, and Los Angeles have begun, but no travel restrictions have been issued. Malaysia, Vietnam, Japan, Thailand, and Korea have reported cases linked to visitors returning from Wuhan city. And the one confirmed case in the US has been reported with a similar travel history that resulted in quarantine and subsequent recovery."
[Update 02/03/2020] Many commercial airlines have halted some or all flights into and out of China. Individuals who do travel from China should expect to be quarantined for observation for up to 14 days upon entry to the United States. Other countries have imposed similar restrictions, as well.
If you have plans to travel...
If traveling abroad, DAN Senior Research Director Peter Denoble, M.D., D.Sc., offers these safety tips:
Avoid visiting markets with animals or farms.
If you are in a country with an outbreak, take precautions if you have to visit a hospital.
If you have to travel to a country with an outbreak, take protective masks and hand disinfectants with you—just in case.
Be prepared for screening and delays at airports and other ports of entry.
Make sure you have all your necessities—including your medications—in a carry-on bag, in the event you get held up.
Latest News on the Novel Coronavirus Outbreak
Advisories and Updates: CDC, US Department of State, and WHO
News: Google, Reuters, CNN
Locations with Confirmed Cases of 2019 Novel Coronavirus
Case numbers are changing rapidly as the outbreak evolves. To keep up with the latest totals — both inside and outside of China — check Johns Hopkins' Wuhan Coronavirus (2019-nCoV) Global Cases dashboard.
Coronavirus Questions and Answers