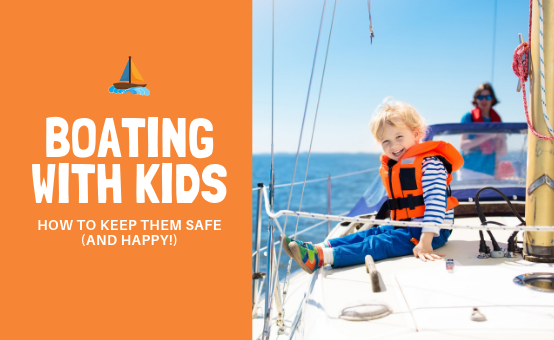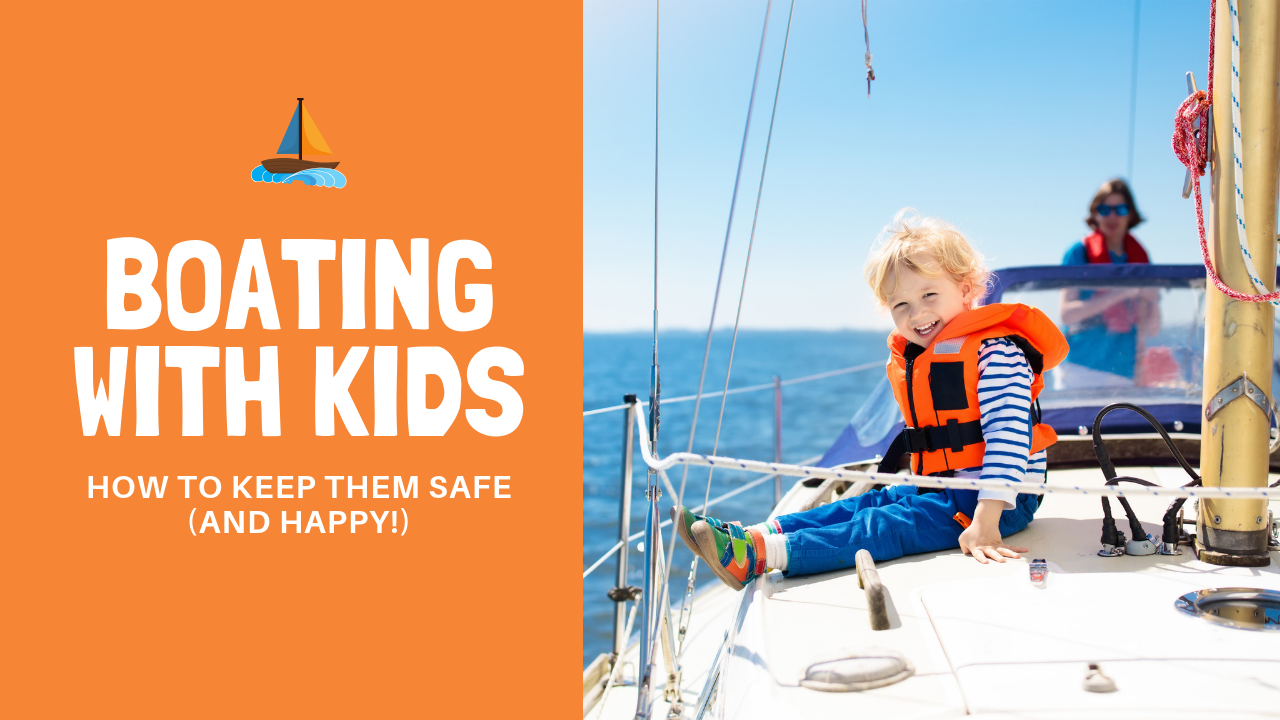 Boating with Kids: How to Keep Them and Safe (and Happy!)
By DAN Boater
Whenever you hit the water with kids aboard, you need to take some extra steps to assure "smooth sailing".
From an overnight freshwater sail to an extended blue-water cruise—and everything in between—each time you take your kids (or grandkids) aboard your vessel, you sow the seeds for a lifetime love of boating.
What could be better than that?
According to surveys conducted by Impulse Research Corporation and the NMMA in the early 2000s, nurturing this passion offers children a boatload of benefits. Researchers and parents alike have discovered that boating kids tend to be:
Healthier and more physically fit than non-boaters
Outgoing, optimistic and more prone to becoming leaders in life
Self-confident and great problem-solvers—traits that come from learning a wide range of useful skills
Closer to their families, having spent quality time together on onboard
Whether you're cruising with toddlers, tweens or teenagers, the key to a fun, relaxing and educational family voyage is well-informed planning and smart choices. To help get you started, we assembled this 20-point checklist of recommendations from boating safety experts and experienced cruising parents who've been there, done that.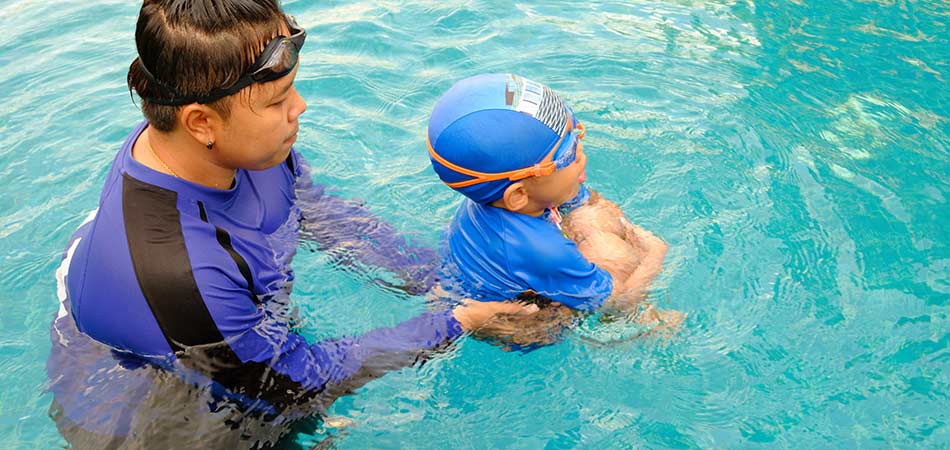 Safety Rules. Period.
To avoid injuries and mishaps on boat trips, everything revolves around safety.
Teach them to swim. As early as possible.
"We taught our children to swim at a very young age, as this is of utmost importance and a high priority if you live on a boat," believe Jay Thompson and Natahsa Gonzalez aka "The Coconuts," who have been living aboard their sailing vessel, Messenger, since 2014 with their four children. "Doing this also helps youngsters respect the water, not fear it."

If you'll be cruising in deep water, it's best that all youngsters aboard know how to float, tread water and be able to swim at least 100 yards. Let your children know that swimming in the ocean or a lake is not the same as swimming in a pool, due to currents, undertows, fast-changing weather conditions, and rocky surfaces. Remind them, too, to stay well clear of propellers and not to dive into oceans, lakes or rivers, because you never know how deep the water is or what might be lurking under the surface.
Learn CPR and basic first aid.
Parents should be certified in C.P.R. and trauma response, and Safety at Sea courses are always highly recommended. Be sure to stock up on DAN Boater's health and safety guides as well. You can download digital copies for free or purchase print copies in the Travel Store.

Adds Mistrot, "Educate yourself and your children on harmful marine life, especially box jellyfish and Portuguese man-of-war. If the latter is prevalent, or you see box jellyfish, stay out of the water. Kids are attracted to jellyfish on the shore, but these can still sting when dead. Also educate kids on lionfish, barracudas, moray eels, water moccasins, sharks, and fire coral."
Childproof your boat.
Fortunately, yachts tend to be remarkably childproof. Most edges are rounded, drawers are fitted with features that stop them from flying out at sea and cupboards that lock. But you should still do a quick safety check for sharp edges of aluminum or fiberglass around consoles, cubbies, etc. Inexpensive edging and corner bumpers are a great way to protect children in case of a tumble.

"While boats are surprisingly kid-friendly, the electrical panel and battery-selector switches are not," cautions Brian Mistrot, who has been cruising Florida, Puget Sound, and the Gulf Coast with wife Christie since their children, ages 10 and 14, were born. "Educate your child not to touch any switches. A flipped switch can cause damage to pumps or turn off important electronics. Also, the power behind the panel IS dangerous and accessible to wayward fingers; if your panel doesn't have keyed access, install one—and hide the key."

Install covers over all outlets, and keep the cockpit clear of any gear (boat lines, air horns, fishing gear) that could harm your child. Secure cabin doors, lock storage compartments, keep cleaning products out of reach, and install a gate at the top of any stairs. Stow, batten or otherwise secure anything that is breakable, dangerous or could cause a child to trip.
Install lifeline netting.
Install it around the edge of the deck, recommend Phil and Aimee Nance, who sailed away from San Diego in January of 2015 on the S/V Terrapin with daughters Jessica, 11, and Emma, 9, as well as their cat, Captain Fluff. "This provides an additional layer of safety—plus keeps toys and tools on board." Lifeline netting can be a lifesaver if your boat has open deck areas or spots where little ones could easily topple overboard. Alternatively, you can use netting to cordon off certain areas of the boat, like the bow, a swim platform, etc.
Require life jackets.
All children on board should wear a USCG-approved life jacket that fits properly and will support their weight. Three design elements are key when choosing a life jacket for a child: (1) head flotation to hold their heads up out of the water, (2) a crotch strap to prevent slipping out of the life jacket, and (3) a collar that will turn the face-up should they take a tumble overboard. Choose PFDs that have handles on them (for easy rescue) and are brightly colored for high visibility. It's also a good idea to attach a marine-grade whistle to each life jacket and teach your kids how to blow it in case of an emergency.

Learn how the new life jacket labels are making it easier to choose the right one for your kids.

Wearing life jackets off the boat is equally important since the most common falls in the water occur on docks and when entering and exiting the boat. "In our family, it's life jackets at all times on the dinghy and docks," said Brittany and Scott Meyers, who live aboard Asante, a 1998 cutter-rigged Brewer 44 with their three daughters—Isla, 6, and 4-year-old twins, Haven and Mira.
Clip them in.
Children are naturally active and curious, which creates the potential for major mishaps while cruising. "For us, a harness was always the most important piece of safety equipment," reports Michelle Elvy, who has been sailing the world for 15 years with her husband, Bernie, and their daughters, Lola, now 16 and Jana, 13. Safety harnesses are basically a "leash" that's clipped to your child's PFD and then attached to the boat to prevent them from falling overboard.
Establish—and enforce—rules.
Just as you have rules at home and for riding in the car, your boat should be no exception. Kids need to be well versed in the basics of safe boating. "'One hand on the ship at all times' was a biggie for us," says Pam Wall, a sailor-turned-cruising-consultant, who spent six years circumnavigating the globe with husband Andy and their daughter Samantha and son James, when their kids were 8 and 4, respectively. "Make sure your children understand that even when below deck, and especially on deck, they must always be holding on to something, because their home is always a moving object, and there is no nice grass to fall upon!" Since decks can be slippery, "no running on board" is also a no-brainer policy to enforce.

For Brittany and Scott Meyers, the "buddy system" rule was paramount: "No kids on deck alone, even while at anchor—and no leaving the cockpit unless with a parent."
Point out safety features and practice routines.
While many sailing families practice man-overboard and other safety drills together as a family, the Walls preferred a more show-and-tell approach. "We made it a point to always teach and lead by example," Pam explains. "What we did aboard, we taught our children to do the same. We gave them the 'drill' daily with how we reacted, how we took care of problems, or how we reacted in times of emergency. Of course, we always showed our children what we were doing, and more importantly, explained why we did what we did. So, rather than going through drills, it was a daily life education."

Julie Cartigny and Fred Bru, a French family of four who spent two years cruising across the Atlantic through the Caribbean and Bahamas aboard Datura, used repetition to teach their children, ages 6 and 11, boating safety techniques. "Whenever we had new guests aboard, before getting underway, we briefed them on security and safety features, so the children received regular reminders and refreshers," the couple reports.

You can also get creative like Behan and Jamie Gifford, who set off from Seattle, Washington aboard Totem in 2008, and have been sailing the world ever since with their three children, Niall, Mairen and Siobhan, who were 9, 6, and 4 when they left. "We had safety scavenger hunts aboard with our little ones. For example, we'd see how fast they could find all our fire extinguishers on board," says Behan. "We also gave them an opportunity to practice how to use a fire extinguisher with our local fire department before departing. That way, we didn't have to talk about the terrifying possibility of a fire on board for them to know what to use, where it was, and how to use it." The Giffords' approach paid off when, in 2016, their boat had a short that nearly became an onboard fire. "Our son was able to calmly and quickly put abandon ship prep into place, while Jamie and I looked for the source of the fire," Behan reports.
Familiarize them with the radio.
Except for toddlers, everyone aboard your boat should know how to call for help in case of an emergency. "We taught our children to use the VHF radio and how to make emergency calls," says Julie Cartigny. "We had a card next to the radio detailing the procedure, as well as a very simple list of things to do in case of man overboard."
Create a Safe Zone.
Kids need a comfortable and secure haven they can retreat to during storms or when your attention needs to be fully focused on the vessel—like during docking or anchoring. "We used our V-berth, which we padded with pillows," says Mistrot. "If you put some of your child's favorite toys in the safe zone, he or she will be content for a while."

Adds Traci Wennerholm, who shares tales of her voyages with a toddler, two dogs and a husband at BurntApple.com, "To make little ones feel especially safe and secure, provide bean bags and a favorite stuffed animal and/or blankie."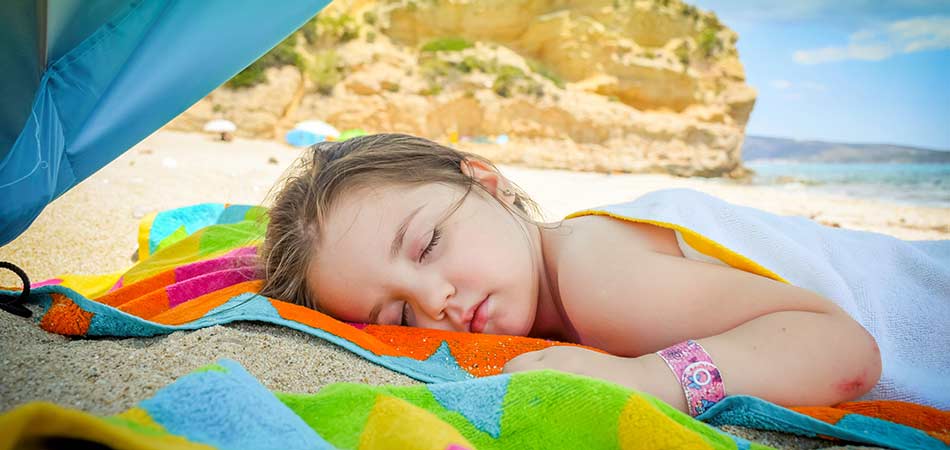 Healthy + Comfy = Less Misery
A miserable child can rock the mood on your boat in a heartbeat, so be sure to take precautions to:
Check on their fitness to travel.
"Before departing on long voyages, make sure your youngsters are up to date with checkups and vaccinations," advise the Giffords. It's also a good idea to get a family membership with DAN Boater, which will provide peace of mind if your kids (or any family member) get ill or injured while aboard or spending time ashore. Access to the medical information line and medical evacuation coverage will more than pay for itself the first time you have a health question or need help getting to proper medical care.
Prevent nasty sunburns.
The sun is stronger on the water, and kids have delicate skin that burns quickly. So, outfit them in cool hats and shades, and pack plenty of water-resistant, multi-spectrum sunblock that's rated at least SPF 30, and reapply at least every two hours. Do the same with lip balm that contains sunscreen, which also works great for sensitive areas like noses, cheeks, and ears, as well as lips. And remember to pack the aloe vera for red itchy skin, just in case.
Avoid hyperthermia and hypothermia.
Wearing life jackets on a sunny day makes kids hotter. So, bring lots of water, juice and cool treats—such as ice pops—aboard to keep youngsters hydrated. On the flip side, keep in mind that when kids get wet, they get cold much faster than adults do and that even on hot days, ocean breezes and wind from a moving boat can quickly chill a child. So, don't forget to pack extra clothes and nice big towels to keep them warm and dry.
Keep young bodies fueled.
Growing bodies get hungry often, so pack lots of healthy snacks: trail mix, fresh fruit, yogurt cups, cheese sticks. But go easy on letting them consume too much sugar, since the last thing you want in tight quarters is hyper kids! "Cookies, chips or candy always seemed to sneak their way in on our boat," laughs Wennerholm. "But toddlers don't do well with those kinds of foods long term and will make you pay for it with tears and tantrums. Try cutting up fresh fruit, bringing along some granola bars, or fruit snacks as a better alternative. Protein snacks are also good energy for swimming."
Inspect and re-stock your first aid kit.
Toss out anything that's expired or damaged and replace it with fresh items. If you're not sure what you need, here's a handy checklist of first aid supplies for a well-stocked kit.

Remember, kids are more prone to bouts of seasickness than adults are, so have a variety of anti-nausea remedies ready to go to settle young stomachs. Pack plenty of bug repellent and calamine lotion to prevent and treat pesky bug bites. And if you're cruising the coast, Mistrot recommends carrying vinegar to treat jellyfish stings.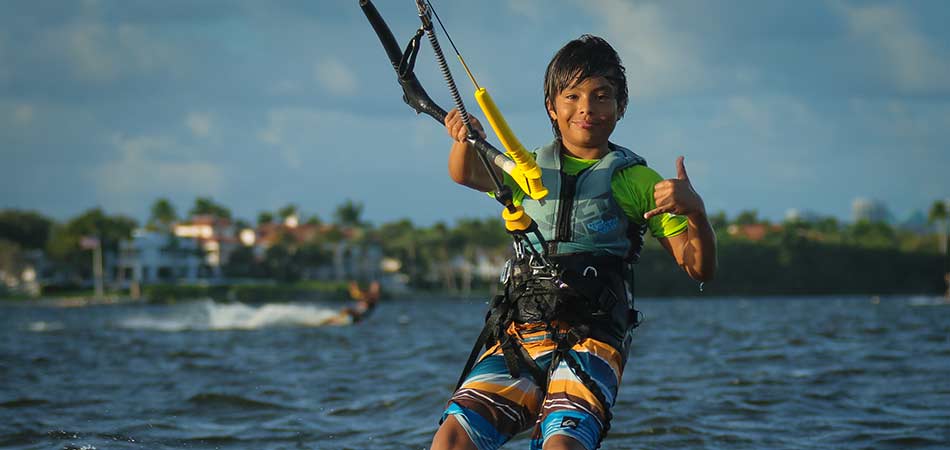 Time Flies When They're Having Fun
When youngsters enjoy boating, they'll want to repeat the experience. So, if you're casting off for more than a day trip, make sure you have ways to keep your kids happily occupied after dark or during inclement weather and downtime hours. That way all aboard can enjoy their time on the water. A few suggestions:
Make it cool to be crew.
When you give your children responsibilities on board, you create teachable moments. Plus, everyone working together as a crew instills a sense of family camaraderie. Pam Wall agrees: "Teach children from the get-go everything about their floating home. Give them the opportunity to know how to throw a line, steer a compass course, use a VHF radio, cook meals in the galley, furl the sails, or keep a watch."

Even toddlers can become honorary first mates by helping to carry small gear aboard, assisting with clean-up after meals and acting as spotters when you're pulling skiers or tubers. Or, give them a pair of binoculars and charge them with being on the lookout for wildlife or ships on the horizon.

Adolescents and teens can tackle more complex jobs—like securing all the gear on the boat, helping to set your float plan, preparing meals, checking current and expected weather conditions on the VHF radio, and even helping you drive and dock.
Pack a few of their favorite things.
The busier youngsters are on the trip, the less likely they will be bored and get into trouble. Determine what activities they enjoy most offshore and pack accordingly. If they're avid readers, stuff a sack with paperbacks. Builders? Buy a stash of mini-Lego kits. Word game freaks? Pick up the thickest book of word puzzles you can find. Gamers? Fill a box with compact board games and load a tablet with their favorite video games.
Fuel their passion.
"Encourage them to pursue their passions while on board," advises Michael Samway who, along with wife Jennifer, took their tweens (Keenan, 12, and Daria, 11) on a year-long cruise of The Great Loop on their 48-foot Kadey Krogen North Sea trawler, named Muddy Waters. "Keenan enjoyed photographing our surroundings from our topsides, and we've posted some of his favorite shots on our website. He also taught himself to play bass guitar and practiced regularly onboard, taking a few lessons along the way from musicians we met. Daria continued her love for the arts by practicing ballet regularly onboard and by making and selling jewelry."
Turn your boat into a living classroom.
While aboard Muddy Waters, the Samway tweens read Mark Twain while cruising on the Mississippi. "We spent hours on the solemn grounds of battlefields from the Revolutionary War, the War of 1812 and the Civil War," reports Michael. "We toured the U.S. Naval Academy in Annapolis and the U.S. Military Academy in West Point, visited Presidential libraries and approached Ellis Island by water."
Provide ways they can connect with friends.
A laptop or tablet with Internet service enables older kids to keep in touch with friends at home via email, text or Skype, says Shelly Self, who lived aboard a 46-foot trawler, Oh 'Swell, for seven years with daughters Erin, 15 and Ellen, 13. "Also, when possible, adjust your itinerary to maximize time with other cruising families—especially if you're cruising with teens. Kids this age love socializing, and just by spending a few days catching lobsters, sunbathing or merely hanging with yachties their own age translates into making lifetime friends."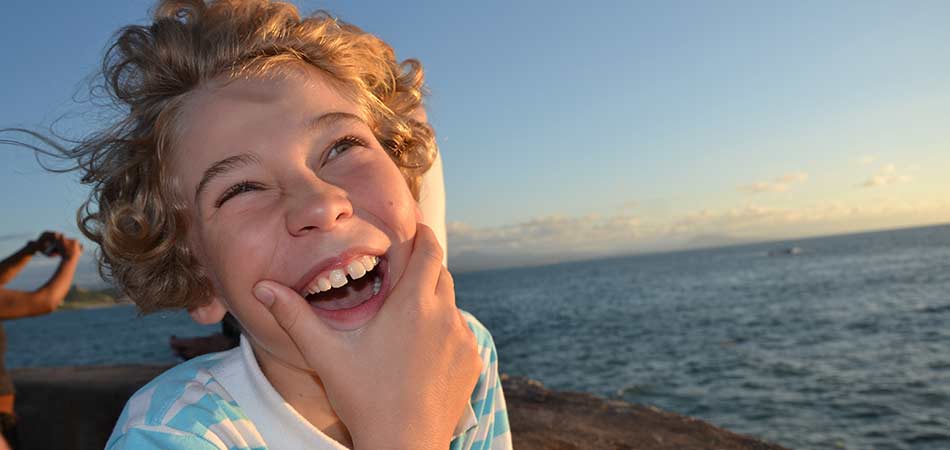 It's the Journey, Not the Destination
Remember, the goal here is to expose your kids to fresh air, sunshine, marine life, on-the-water adventures and quality family time. So, stay safe, chill, and make some memories you can all cherish for years to come!