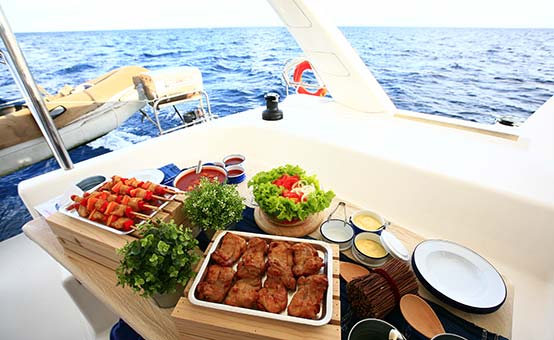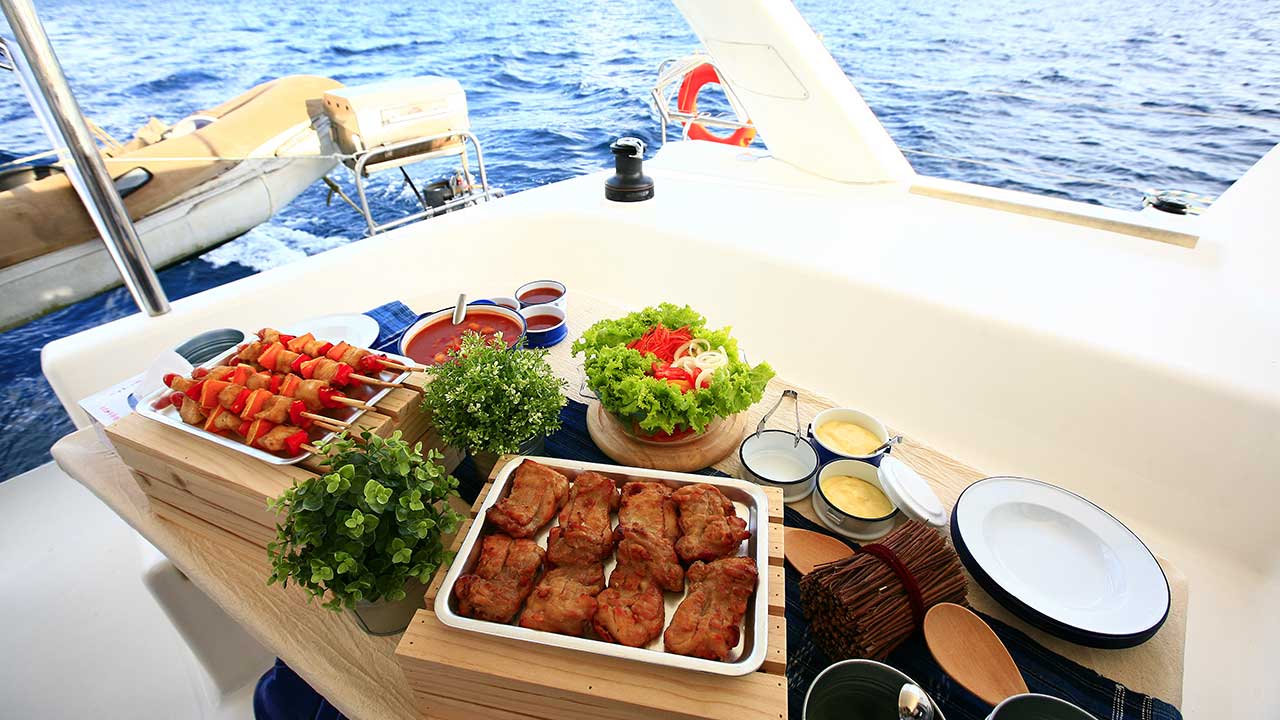 Prepping the Pantry: The Cruiser's Guide to Healthy, Sensible Food Planning
Boat inspection…check. Safety equipment…check. Float Plan filed…check. But what about food?
Yachties often procrastinate provisioning because the task feels so daunting and overwhelming. But you need a food plan to go with your cruising plan, and it needs to take into account your vessel's ability to keep food fresh, the inevitability of bad weather, and your access to re-provisioning along the way.
Keep reading for expert tips and tricks on stocking your boat with all the tasty and nutritious essentials you'll need for a stress-free journey:
1. Create a food plan that fits your cruising style
While cruising, you can't just hop over to the supermarket and grab extra supplies, so plan to pack the boat with as much food as possible. The trick is figuring out just the right amount, and to do that, Nica Waters, who teaches classes on provisioning for Cruisers University and has sailed extensively with her family on their 28' Bristol Channel Cutter, Calypso, recommends avoiding what she calls "The Goldilocks Effect." (Also see "Plan for the Unexpected" below). "Not too big, not too small; not too much, not too little," she explains. "Hitting the magic food amount takes some surprising perspective, but it's very doable!"
For starters, she recommends "practicing" before you cast off. "For example, if you're going cruising for seven nights, track what you eat for a week and use this as the basis for amounts." Then make a meal plan and have all your breakfasts, lunches, dinners and snacks set for the voyage.
To save time and space, you can plan for fewer dinners. "Heading out for six nights? Buy for four dinners," Waters suggests. "This gives you the chance to go ashore for a nice meal and/or eat up all the leftovers." Or pack the rods and reels and plan to go fishing for a super-fresh meal or two.
As you're planning meals, be sure to take into account personal tastes and dietary restrictions. "Everyone has their favorite foods, and we keep a good supply of everyone's special treats on hand. They can be valuable morale boosters on a bad day!" say Sheryl and Paul Shard, authors of Sail Away! A Guide to Outfitting and Provisioning for Cruising, and hosts of the award-winning sailing adventure TV series, Distant Shores. "Also, it's important to identify any dietary restrictions your crew members may have, so you can plan meals that are safe for everyone to consume."
Before you go shopping, it's a good idea to make a spreadsheet. You can create one of your own, or download one from The Boat Galley. Created by Carolyn Shearlock, author of The Boat Galley Cookbook, who has been cruising over 12 years with her husband, this handy, editable Inventory and Provisioning Spreadsheet allows you to calculate how much of everything you'll need for your planned trip duration, subtract out what you already have, and print out a shopping list sorted by grocery store aisles.
2. Prep meals ahead of time
Before you go, cook and freeze meals that you can just heat and eat on board. "I'll often make and freeze lasagna, pot pies, and casseroles in seal-a-meal bags ahead of time," says Ann Eichenmuller, who sails a 33-foot Morgan, Avalon, out of Lancaster, Virginia, with her husband, Eric.
Just be sure to prepare larger portions than you would for meals at home. "Cruising is an active lifestyle and with all the fresh air and exercise — sailing, swimming, diving and exploring — appetite level increases," say the Shards.
3. Stock the shelves
You can't go wrong stocking up on staples like; pasta, rice, oats, cornmeal, couscous, millet, quinoa, powdered milk, raisins, dried fruit, pasta, dried beans, and lentils, says Heather Francis, who has been living and working on boats around the world for over a decade. "Moisture can be a problem, though, so It is worth investing in some good, air-tight containers to store these items in. Not only will having your dry stores organized make it easier to see and use what you have, but proper storage will prevent spoilage and bugs."
"Canned vegetables are good in stir-fries—think corn, tomatoes, mushrooms—in pasta, on pizza, or fried with garlic & cream, beans, etc.," says New Zealand sailor and blogger, Viki Moore. Canned tomatoes make a great salsa, and canned chickpeas are great for making hummus. Canned fruits work well on cereals or as desserts—peaches, pears, apples, pineapple, berries. Canned meats are also not bad—consider tuna, chicken, etc. for salads and sandwiches. Moore also recommends using a permanent marker to label the tops of the cans with what's inside in case the paper labels get wet or fall off.
Check out the freeze-dried section of the supermarket as well—for peas, corn, beans chili, mushrooms, dried fruit, etc., adds Moore. "Preserved things in jars—olives, sun-dried tomatoes, sauces, and curries, etc.—are always handy to have around and usually have a reasonably long shelf life. Also, long-life cream, milk or powdered milk is great on cereals and in smoothies."
4. Add fresh foods that will last
Choose veggies that can last for a week or more in the fridge. "We eat spinach and spring mixes first, as they tend to be delicate and spoil easily, while iceberg lettuce, particularly the hydroponic kind, can last for a week or more in the fridge," says Eichenmuller. "Chopped red cabbage is a great salad base due to its long shelf life, and like cucumbers, tomatoes, peppers, and squash, it does not need refrigeration.
To store onions, Eichenmuller uses the leg of a pair of pantyhose, knotting the hose after dropping in each onion, then hanging it in a dry place. "I snip off the knots from the bottom whenever I use an onion, leaving the others hanging intact," she says. "Sweet potatoes, red potatoes, apples, and pears are stored in lockers between layers of newspaper."
Moore advises stocking up on carrots, firm tomatoes, oranges, limes, and lemons as well since these don't need to be refrigerated. "Eggs keep really well, she adds, and cheese lasts a long time too—especially cheddar, or those with a wax coating. With soft cheeses, however, be sure to check the use-by dates."
5. Don't forget the herbs and spices
"When you're eating a lot of food like rice, beans, and lentils, it can get very drab," admits Julie Hausen, who lives aboard Shaggy Seas with her husband and two dogs and makes YouTube videos about their sailing adventures. "But if you have lots of spices, you can make all kinds of different foods. You can make anything from Mexican, to curry to Cajun dishes. So, I would highly recommend packing lots of spices to make monotonous meals a little more interesting."
Adds Moore, "Herbs and spices are always good to have on board for adding extra flavor to meals, and they can sometimes be difficult to track down on shore." What's more, many herbs and spices can help keep you healthy or double as home remedies for common ailments at sea.
6. Pack smart snacks
"Snacks are great for warding off queasy stomachs and keeping yourself awake at night on watch," says Moore. "Think ginger biscuits, fruit cake, muesli bars, nuts, crackers, chips, chocolate, sweets, pretzels, fresh & dried fruits, pre-made sandwiches, pasta salad, trail mix, salami, cheese, etc. And always keep these in an easily accessible area."
The Hausens agree. "When you're on deck exposed to the cool sea wind, you often don't realize how much you're sweating because it evaporates so quickly. For many people, this manifests as a craving for salty foods. You lose a lot of sodium as well as water when you sweat, so we try to keep chips and pretzels aboard."
7. Water, water everywhere
Drinking water is, of course, the most important provision of all. How much do you need? A rule of thumb is to allow 2 liters per person of drinking water per day. And to avoid wasting drinking water, many boaters assign each person a unique water bottle to use throughout the journey.
Moore also advises packing some containers with handles filled ¾ full (so they will float). "Tie these all together with a clip at one end—this is your emergency drinking water if you have to abandon ship," she explains. "Clip the end to the ditch bag or life raft as you evacuate."
8. Plan for the unexpected
Aside from packing emergency drinking water, you need a back-up plan for food as well. "The common rule among cruisers is to provision for 50% more time than you plan to be away," say the Shards. "This is a good guideline, but use your best judgment. Imagine the worst scenario possible and plan accordingly—it could save your life!"
Waters advises taking at least one non-perishable 'emergency' dinner along. "A pound of pasta and a jar of sauce, or a package of Zatarain's rice and beans can be dinner in a pinch. Items that do not need to be refrigerated are the easiest to transport." They can also be a lifesaver if your trip is unexpectedly delayed due to mechanical problems, medical issues, or bad weather.
Author Jackie Parry and her husband, Noel, found themselves in that predicament aboard Pyewacket II. "We always had plenty of food and water," Jackie reports. "We always over-shopped—until the Red Sea, where we pretty much ran out of food due to weather beating us back so much. We were allowed to stop at a port and go shopping, except we had to stay in port, and they sent locals off to buy us food—and charged us a fortune for it!"
For longer voyages, Moore advises following the "rule of thirds." "Once you have bought all your food, divide your fuel, water and food supplies into thirds," she explains. "Next, figure out where on your passage is halfway—in miles. Use the first third of your supplies for the first half of the passage. Then when you make that halfway point, you can start on your second third of supplies. Save the final third for emergencies."
9. The "medicine cabinet" in your pantry
Is someone on board not feeling well? Relief may be as close as your pantry. While reliance on home remedies should never take the place of professional medical advice or a properly-stocked first-aid kit, in a pinch, these pantry staples may help soothe a variety of ailments at sea.
If you currently take medications or suffer from food allergies/sensitivities, consult your doctor before trying these options.