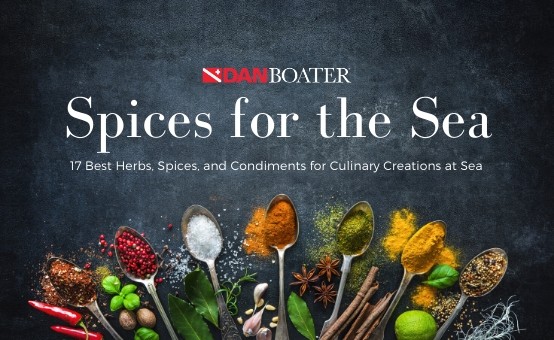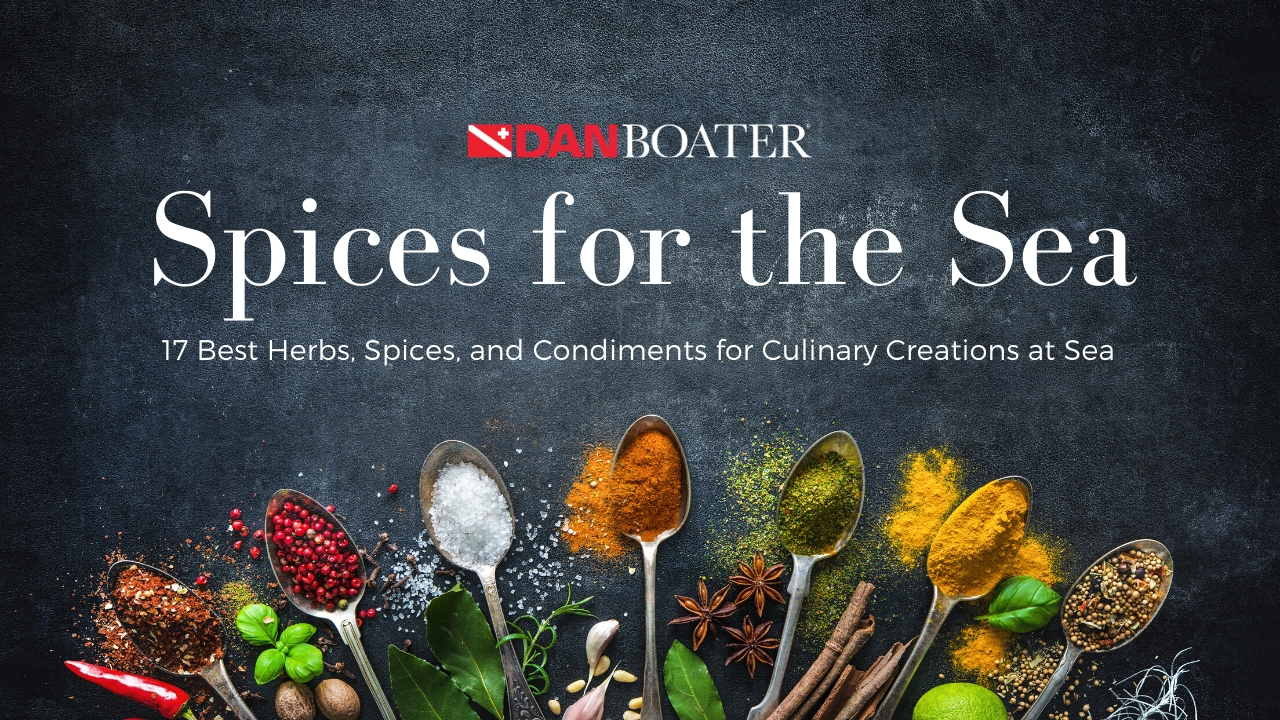 Choosing spices for optimal health and gastronomic benefit can help improve your quality of life at sea
17 Best Herbs, Spices, and Condiments for Culinary Creations at Sea
About to leave on a long trip? When packing your herbs, spices, and condiments, take some time to consider your choices. Not only will these supplies help you cook interesting and diverse meals out of a limited set of ingredients, but some of them may also help you feel better and stay healthier. While you may not be able to use those farm-fresh herbs and vegetables that are ideal for cooking, powders and pastes are practical and useful for your culinary creations at sea.
Here are our tips on how to choose your spices for optimal medical and gastronomic benefit:
Salt and Black Pepper
For these most basic condiments, consider bringing coarse salt and peppercorns, which withstand humidity better than fine salt and pre-ground pepper. Peppercorns and coarse salt can both be dispensed from grinders during the cooking or seasoning processes. Make sure you only use salt sparingly; in sensitive people, it can cause high blood pressure. Black pepper, on the other hand, carries potential benefits, potentially helping the stomach increase the flow of digestive juices, which may be needed if the meal plan becomes monotonous.
Parsley, Cilantro, and Garlic
These are the most versatile herbs, but it is sometimes hard to find them. If you have plenty of space, carry a few live plants with you. For most uses, dried flakes of these herbs will do, but they also come in paste-forms, which can be convenient for cooking or making a quick pesto.
Garlic and Onion
Universally recognized for their ability to enhance food, pungent garlic and the sweetish peppery onion can transform almost any ingredients into delicious soups, juicy stews or any number of other meals. Their bulbs travel relatively well by boat, but preparation time can be prohibitive for everyday use. You may not be able to use garlic and onion powder on a fresh salad, but they're perfectly fine for cooked meals.
Ginger, Turmeric, and Paprika
This trio of colorful powders should not be omitted. Turmeric is a great source of anti-oxidants and praised by many for other assumed health benefits. Its mild taste and vibrant color also make it fun to use in cooking. You may also want to bring fresh ginger root for ginger tea. Some people believe ginger protects them from seasickness, and adding ginger tea to a battery of anti-seasickness weapons may benefits at least some sailors. You can also chew on crystallized ginger if you're unable to boil water.
Red Pepper
Red pepper comes in a variety of flavors and levels of heat. Keep sweet red pepper for near-universal flavor enhancement. If you like capsaicin, bring hot chili peppers with you, but don't count on it adding any health benefits, as it may contribute to cancer development among populations that use it extensively.
Saffron
For cooking risotto with a lack of other ingredients, a pinch of saffron can work wonders. With mussels often only an arm's length below the surface, however, this spice may best serve you in creating a gourmet seafood dish.
Miso, Curry, Tomato and Anchovy Paste
Miso paste provides a versatile shortcut for soups and marinades. Curry paste makes for excellent stews. Tomato paste can replace fresh tomato in nearly any dish. And anchovy paste is probably the oldest condiment in maritime countries — making or breaking a variety of meals. In a worst-case scenario, you can always use anchovy paste to spice the bait when fishing.
Citrus
While not a spice, remember to load fresh citrus if you have additional storage space. Historically, it was a friend of sailors, helping to cure scurvy and stay healthy. While you're unlikely to face the scourge of scurvy, citrus has great culinary value, livening up the flavors in the food you prepare. If you run out of fresh citrus, some dried lemon, lime or orange peel zest, preserved lemons or key lime extract can also do the trip.
You certainly have a list of spices and herbs you prefer for your voyages, but we hoped to give you a few fresh ideas. A well-stocked spice chest may improve your quality of life at sea.
THIS WEBSITE DOES NOT PROVIDE MEDICAL OR DENTAL ADVICE.
It is intended for general informational purposes only and does not address individual circumstances. It is not a substitute for professional medical or dental advice, diagnosis or treatment and should not be relied on to make decisions about your health. Never ignore professional medical or dental advice in seeking treatment because of something you have read on the DAN Boater website. If you think you may have a medical emergency, immediately call your doctor, dial 911, or contact emergency services nearest you.