What is Deep Vein Thrombosis?
Deep vein thrombosis (DVT) is an acute condition in which a blood clot (also known as a thrombus) forms in one or more of the body's deep veins, usually in the legs. These blood clots can then break free, travel through the bloodstream and cause life-threatening conditions such as a pulmonary embolism — a blood clot that lodges in the lungs. The blockage can be great enough to reduce the heart's ability to circulate blood to the lungs, impairing vital functions such as the elimination of carbon dioxide and the delivery of oxygen.

Symptoms of Deep Vein Thrombosis
Approximately half of all DVTs are silent with no noticeable symptoms. When symptoms do occur, they may include the following:
swelling of the affected leg, ankle, and foot
pain in the calf that spreads to the ankle and foot
warmth across the affected area
change in skin color to pale, red or blue
These symptoms are not exclusive to DVT, and at least half of people with similar symptoms may have conditions other than DVT.
DVT often reoccurs and in many cases causes long-term complications such as postthrombotic syndrome (PTS) or pulmonary hypertension after a pulmonary embolism. PTS includes leg swelling, pain, skin discoloration and sometimes skin ulceration due to abnormal local circulation. It is caused by inflammation of veins and incomplete resolution of thrombi, which make veins less efficient at circulating blood out of the affected leg.
These complications can occur without a previous diagnosis of a DVT, which may be asymptomatic. Indeed, even when a DVT is suspected, its diagnosis is quite uncertain.
Travel is thought to increase the likelihood of a DVT. Most DVTs related to air travel occur within the first two weeks after a flight and resolve within eight weeks. In about 25 percent of cases, an untreated DVT of the calf can spread upward into the veins of the thigh and pelvis. If a DVT of the thigh or pelvis is left untreated, there is a risk of a blood clot that originated as a lower-extremity DVT moving centrally and lodging in a pulmonary vessel, resulting in pulmonary embolism. A massive pulmonary embolism is usually fatal.
About Pulmonary Embolism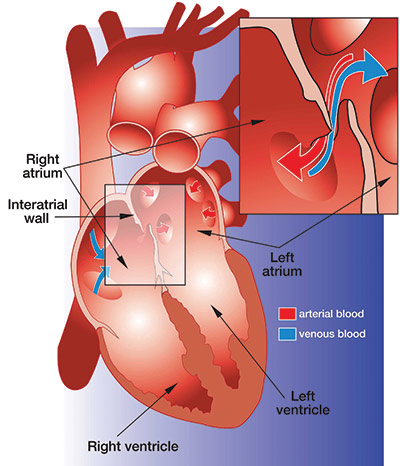 Symptoms of Pulmonary Embolism include the following:
sudden shortness of breath
chest pain or discomfort that worsens with a deep breath or cough
lightheadedness, dizziness or fainting
rapid pulse
sweating
coughing up blood
anxiety or nervousness
Pulmonary embolism is an emergency that requires immediate medical care. In remote locations, an emergency medical evacuation may be needed. In scuba diving situations, the diagnosis may be confused with dive-related injuries.
Another complication of a DVT is a condition called paradoxical embolism — in which a traveling blood clot passes directly into the arterial circulation instead of lodging in or being filtered through the pulmonary circulatory system.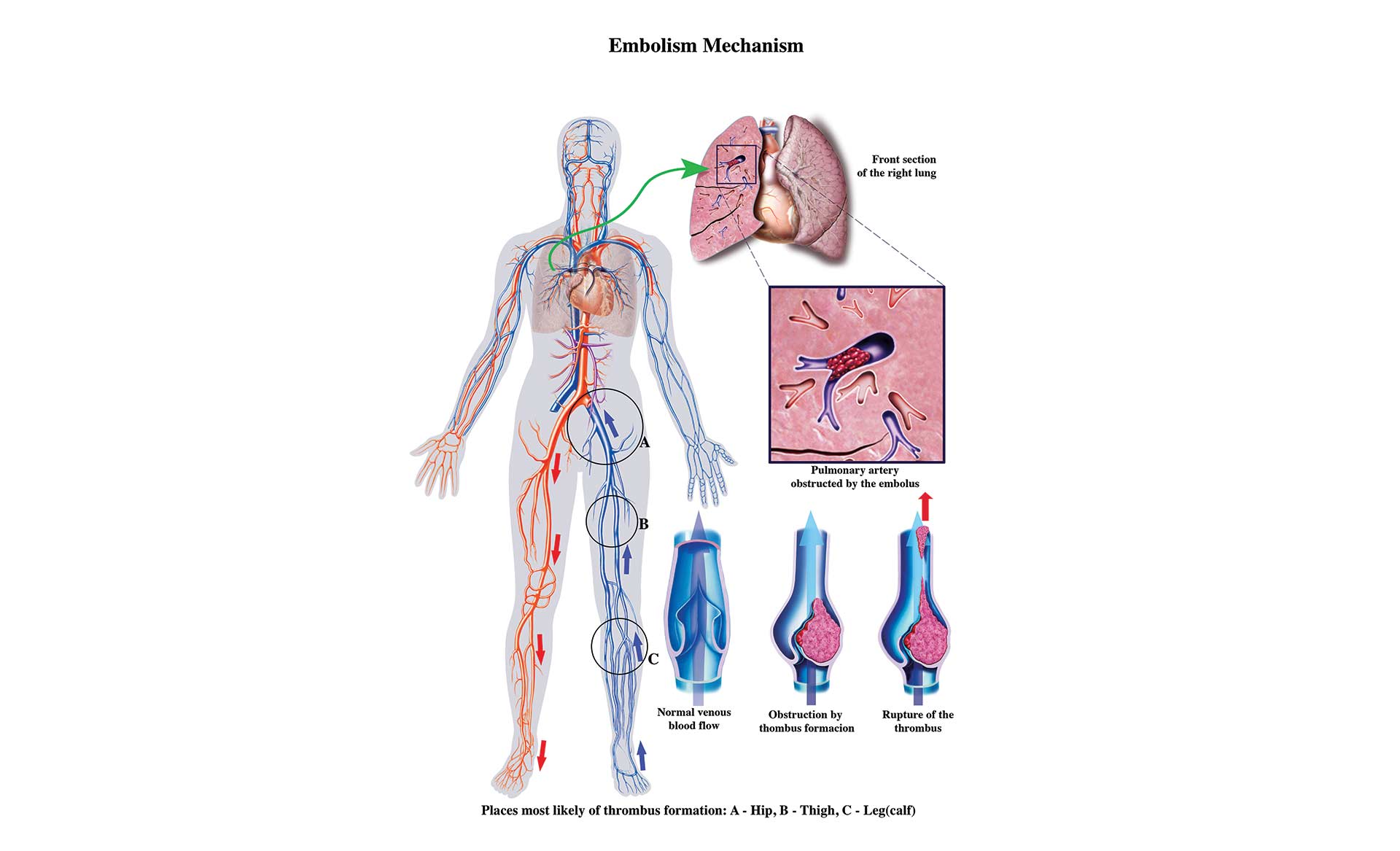 Paradoxical embolism may occur in individuals who have a congenital condition such as patent foramen ovale (PFO) or atrial septal defect (ASD), in which a hole is in the wall separating the heart's right and left upper chambers — this enables venous blood to bypass the lung and pass directly to the arterial system. A clot that may have traveled from the calf to the heart through an atrial wall opening, for example, and into the arterial circulation is a paradoxical embolism. A paradoxical embolism that enters the brain may cause a stroke.
Prevention and Treatment of DVT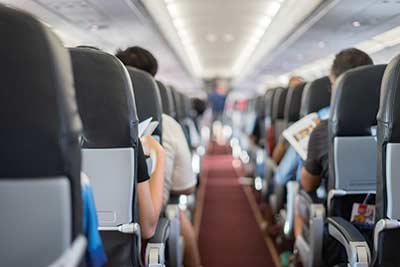 The risk of DVT in healthy, active people is small. Most cases of DVT occur in people with preexisting risk factors who are forced to sit still for a long time (such as travelers who take long plane, car, boat or train journeys), bedridden patients and office workers who sit at their desks for many hours. Immobility slows down the blood flow in the veins (a condition known as venous stasis), and pressure exerted on the calf by poorly designed seats can injure the vein walls. After sitting for 90 minutes, the blood flow in the calf drops by half, which doubles the chance of developing a clot. In individuals with preexisting risk factors, for every hour spent sitting, the risk of a blood clot increases by 10 percent.
The incidence of DVT in the general population is only 0.1 percent, but it is higher in high-risk subpopulations. Long-distance air travel — for which this condition is well studied — is thought to increase the risk of DVT two- to four-fold. The incidence for travelers on flights lasting more than four hours is between 1 per 4,650 flights and 1 per 6,000 flights. This risk is lower than for the general population because people who take long trips generally are healthier on average since very sick individuals tend to avoid long-distance travel.
After a trip of more than eight hours, the incidence of DVT among travelers with a low to intermediate preexisting risk for a DVT was found to be 0.3 percent for symptomatic cases and 0.5 percent when including asymptomatic cases. Again, remaining sedentary while traveling on a boat can share some of the same risks as those for air or motor vehicle travel.
DVT Risk Factors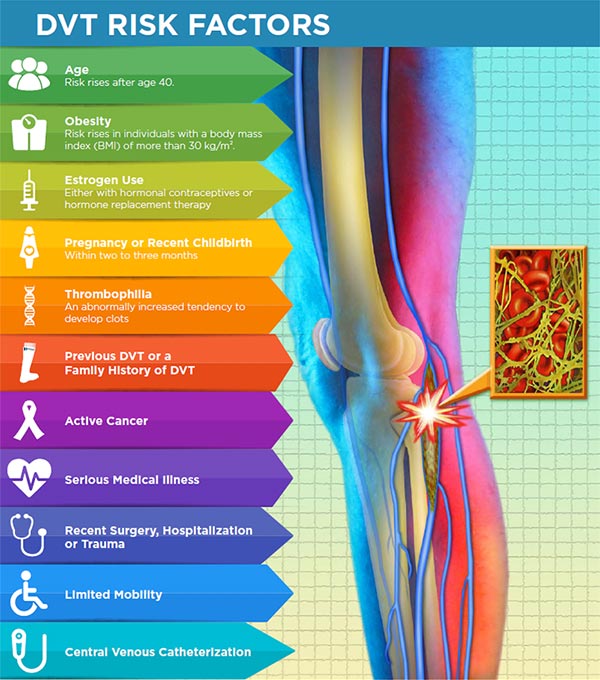 About 75 percent to 99.5 percent of individuals who develop a travel-related DVT have more than one of the following risk factors:
age (risk rises after age 40)
obesity (risk rises in individuals with a body mass index (BMI) of more than 30 kg/m2)
estrogen use (either with hormonal contraceptives or hormone replacement therapy)
pregnancy or recent childbirth (within two to three months)
thrombophilia (an abnormally increased tendency to develop clots)
previous DVT or a family history of DVT
active cancer
serious medical illness
recent surgery, hospitalization or trauma
limited mobility
central venous catheterization
Airline passengers who are shorter than 5 feet, 3 inches (1.6 meters) or taller than 6 feet, 3 inches (1.9 meters) are at an increased risk of DVT because plane seats cannot be adjusted to their height. In addition to immobility, shorter passengers may experience seat-edge pressure on the backs of their knees, and taller passengers may be cramped due to insufficient legroom, increasing the likelihood of vein-wall injury, venous stasis, and activation of the blood's natural clotting mechanisms.
People with a predisposition to blood clots should wear compression socks (knee high) or stockings (thigh-high) when traveling and should consult their physician regarding the use of an anticoagulant medication such as aspirin.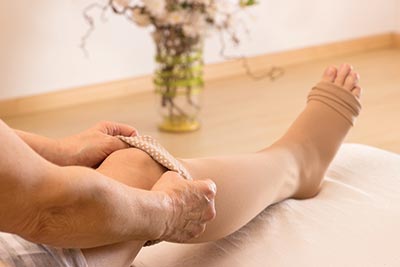 Compression footwear reduces the chance that your blood will pool and clot, and anticoagulants inhibit your blood's ability to clot. Regular use of compression socks or stockings can also help prevent the swelling associated with DVT. It is usually advisable to wear compression footwear for at least a year after experiencing a DVT.
Anticoagulants (blood thinners) are drugs that inhibit your blood's ability to clot, thus reducing your risk of developing a clot. They range from over-the-counter medications such as aspirin to much stronger drugs such as warfarin (brand name Coumadin®) as well as newer direct oral anticoagulants. There is no evidence, however, that healthy people without preexisting risks for DVT benefit from compression footwear or anticoagulants.
People who cannot take anticoagulants, who have a DVT recurrence despite taking anticoagulants or who have repeated pulmonary embolisms can have a filter inserted in their inferior vena cava — the vessel that returns venous blood from the lower body to the heart. This filter, which is sometimes referred to as an umbrella because of its appearance, prevents clots that break loose from lodging in the lungs. Individuals with vena cava filters may return to a normal day-to-day life.
Everyone should avoid long periods of immobility — it is good practice to periodically get up and walk around while traveling. Exercising or flexing your feet and calf muscles while you are seated and staying well hydrated can also be helpful.
DVT is a serious medical condition that can result in death or major disability due to pulmonary embolism or PTS. Thus, it is an emergency that requires appropriate diagnosis and treatment to improve the chances of healing and to prevent life- and limb-threatening complications. In the hospital environment, early thrombus clearance rapidly resolves symptoms, preserves veins and restores their normal function.
Tips for Boaters on DVT
Most boat crews will be actively moving about the boat, completing their tasks for a successful voyage and minimizing such stasis. Some crew members may be immobile for prolonged periods due to physical condition or status, but this practice should be discouraged to mitigate the risk of DVT.
This information is applicable to a companion who remains seated next to a boat captain, who is standing at the helm, while the companion may be relatively dehydrated, sedentary, sitting with feet dangling and with pressure on the back of the thighs — a setup for a DVT.
On a boat, getting up and "making rounds" not only may help prevent a DVT but also may help detect a problem with the boat early.