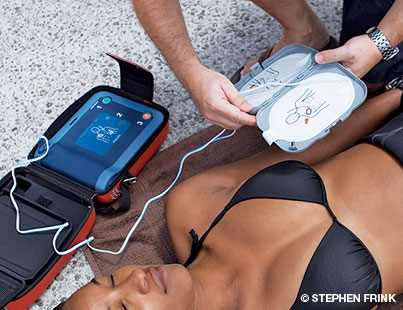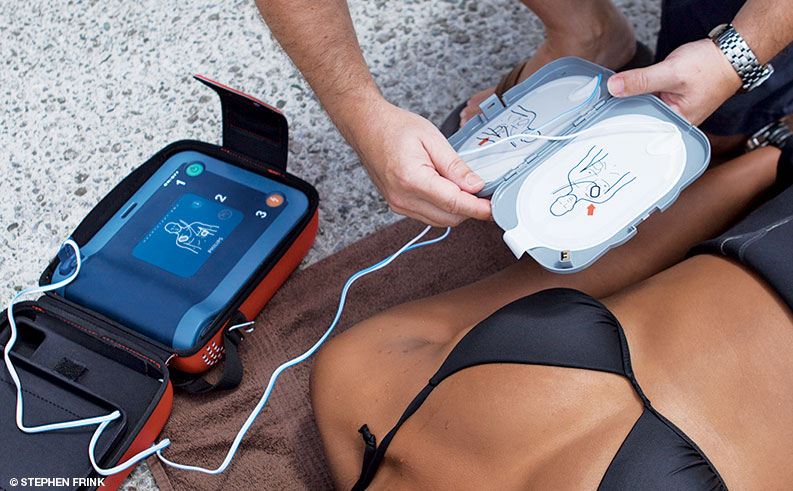 Are AEDs Safe To Use In Wet Environments?
By Frances Smith, EMT-P, DMT
Question: I noticed an automated external defibrillator (AED) among the first-aid equipment of a boat I was on. Is it safe to use an AED around water? How about on a metal boat deck?
Answer: Current research indicates that most AEDs, because they're self-grounded, are safe to use in and around wet environments with no risk to the victim, rescuer, or other passengers on the boat.
Early defibrillation and aggressive CPR are the two actions proven to increase the likelihood of survival of a victim of cardiac arrest. CPR circulates blood to vital organs, but it cannot restore a patient's heart to a healthy rhythm. The definitive survival treatment for someone experiencing cardiac arrest is defibrillation — a shock. To be most effective, defibrillation must occur as soon as possible after the onset of cardiac arrest. According to the American Heart Association (AHA), each minute of delay before defibrillation reduces the chance of survival by 10 percent. Published studies have asserted that early defibrillation can save up to 74 percent of victims.
While AEDs have been used for many years in airports, shopping malls, gyms and senior citizens centers, boaters may be reluctant to bring them into wet environments or onto metal-hulled boats out of concern that bystanders may be endangered by potential electricity conduction. Current research, however, indicates that AEDs are safe to use around water and on metal surfaces.
The best information is available from the AED manufacturers themselves, who document minimal conduction of electricity to bystanders during defibrillation with AEDs. As long as the rescuer does not have actual contact with the victim's chest (i.e., touching the chest to administer CPR), he or she is not at risk for significant electrical shock. Also, the longer the distance between the defibrillation pads and the bystanders, the less electricity will be transmitted. Those in a boat or on a conductive surface (metal or water) may feel, at most, a tingle.
In a statement from the AHA and other resuscitation agencies: "Always check with the manufacturer, but most AEDs, because they are self-grounded, can be safely used in wet environments and on metal surfaces with no risk to the victim or rescuer."
THIS WEBSITE DOES NOT PROVIDE MEDICAL OR DENTAL ADVICE.
It is intended for general informational purposes only and does not address individual circumstances. It is not a substitute for professional medical or dental advice, diagnosis or treatment and should not be relied on to make decisions about your health. Never ignore professional medical or dental advice in seeking treatment because of something you have read on the DAN Boater website. If you think you may have a medical emergency, immediately call your doctor, dial 911, or contact emergency services nearest you.