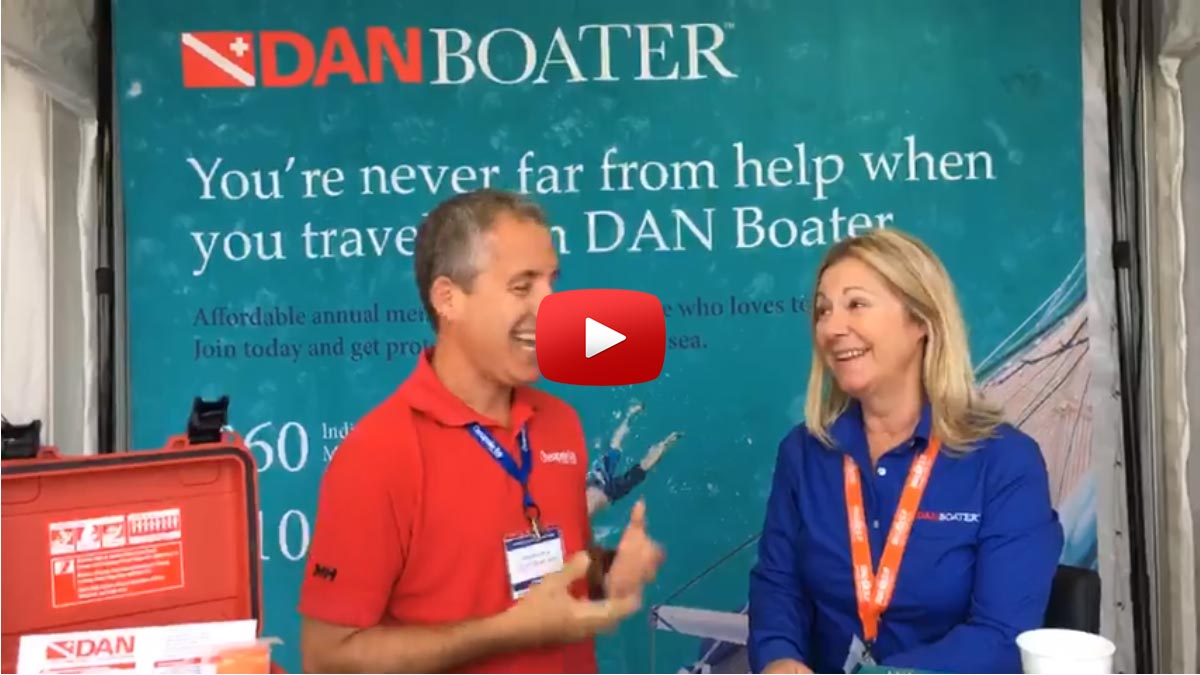 Chesapeake Bay Magazine chats with DAN Boater at the 2018 Annapolis Sailboat Show
What Does DAN Boater Do?
By John Stefancik, Chesapeake Bay Magazine
John Stefancik, Publisher of Chesapeake Bay Magazine, stopped by to see us at the 2018 Annapolis Sailboat Show for details on DAN Boater membership and how it works. Watch the replay of our Facebook Live conversation above, or read a transcript of our conversation below.
CBM: Ok. It's Friday afternoon. It's a bit cloudy, a really nice change from the heat yesterday. And I'm standing here with Ursula Hash from DAN Boater. DAN Boater is a really unique organization that you might not know about. They were, I guess, "born" in North Carolina and they provide emergency services on a global basis. And it started as Divers Alert Network, right?
UH: That's right. That's our parent, yes.
CBM: And it's evolved into something that does a lot more.
UH: Right.
CBM: So, if I came up to you and said, "What does DAN Boater do?" What would you say?
UH: DAN Boater is a travel safety membership. And some of the benefits we provide are global medical evacuation, home country repatriation, travel health and safety guides, and medical information line to travelers any time you travel more than 50 miles from home. You can call our hotline and speak to our medics or physicians. They'll help figure out what's going on with you, what kind of resources that you need, make all the arrangements to get you to the closest medical facility. And then we cover the cost of that.
CBM: So, if I'm offshore, or if I'm going to be traveling on the Intracoastal Waterway, and I need help, I can call and you guys will assist and also coordinate?
UH: That's right. We coordinate all the transportation. We call ahead to let the hospitals or clinics know what's going on. We get you to safety, get you stable. Then (while) we have a case open for you, we monitor you throughout the case, until we get you to safety, get you treated, and you're taken care of.
CBM: It sounds like a terrific service.
UH: Thank you.
CBM: So, um, we also have this… this is a first aid kit that you guys also sell, right?
UH: Yes. This is one of the DAN first aid kits. This is our Coast Guard Complete. We now offer these for sale on our website DANBOATER.ORG. We have a full line of first aid kits, all the way up to the large ones with the AEDs and emergency oxygen tanks. Very popular.
CBM: So we're pointing this one out because DAN Boater has partnered with Chesapeake Bay Magazine. This is a drawing. We're going to give one of these away for the sailboat show and one of these away during the powerboat show. Come on over and check it out. We'll have a description of it at the booth.
CBM: Thanks a lot for talking with us.
UH: Thank you!
CBM: Take care.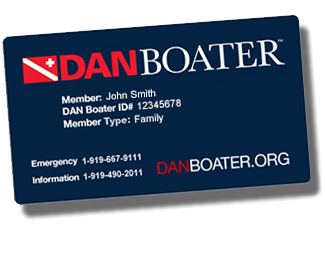 Join the World's Premier Travel Safety Association.
Whether you need travel safety advice, first aid information in the field, or an emergency medical evacuation or repatriation, with DAN Boater, help is just a call or click away.