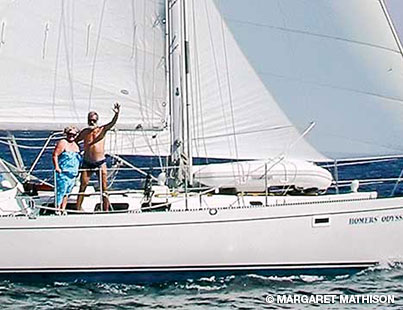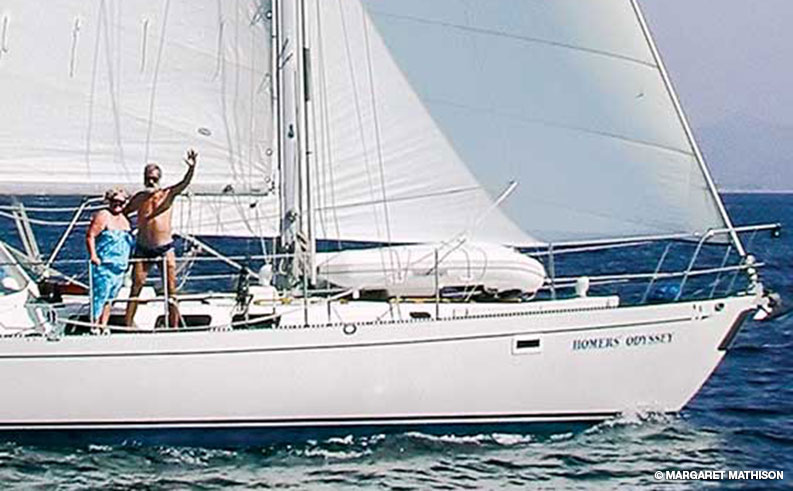 Concussed in Colombia
By Stan Homer
My wife, Lynn, and I launched Homers' Odyssey, our 41-foot sailing cutter, on Vancouver Island in 1984. It spent its first 25 years in the Pacific; we even made a trip across to New Zealand and back via Alaska with our two children. In 2004 we retired and again headed south from British Columbia along the coast to Mexico and points beyond. In early 2010 we transited the Panama Canal into the Caribbean and sailed for the San Blas Islands and Cartagena, Colombia.
We spent Christmas 2010 aboard Homers' Odyssey near Cartagena with cruisers from a dozen other boats, many of whom we had previously met. Our plan was to depart for Roatan, Honduras, as soon as the weather looked suitable. Along the way, we intended to stop over at the Colombian island of Providencia, off the coast of Nicaragua. Including the detour, the sail to Roatan would be just less than 400 miles. We departed Dec. 30 and had sailed 300 of those miles when we ran into deteriorating weather, a series of squalls and confused seas.
During one of these squalls, at 3 a.m. on Jan. 2, Lynn missed a handhold and fell backward as the boat lurched, striking the back of her head on the safety bar of the stove. I was topside on the wheel at the time and felt the impact of her hitting the stove down below. An injury at sea was not how we wanted to bring in the New Year.
She did not lose consciousness, but from the force of the hit we knew this might be serious. I checked for any external bleeding or deformity and then arranged a pillow for her on the floor and told her to stay there until the squall had subsided. After about 15 minutes I was able to return to the cabin and assist her into our bunk. The nearest hospital was on Providencia, but it would take almost two days before we could actually get anchored and have her checked out there. During the following days she had severe headaches, and we used cold packs to try to reduce swelling, but we did not have any medications we thought would do any good.
When we made it onshore in Providencia, the shipping agent summoned the local doctor to meet us in a little restaurant near the dinghy dock for Lynn's initial inspection. The locals found it very entertaining when she was given a painkiller shot in the rear end — in full view of the restaurant's patrons and staff. A few hours later, with the help of an X-ray, the doctor determined she should be kept in the local hospital overnight and then transported to San Andrés, a larger Colombian island some 55 miles away. The hospital at San Andrés was much bigger and better equipped. While Lynn was getting her X-ray, I called DAN to inform them we might have a situation requiring some support. Little did I know just how much support we would need.
The next day, Jan. 4, Lynn was flown to San Andrés and transported by ambulance from the airport to the hospital. There she immediately received the first of several CT scans. It revealed internal bleeding, which seemed to be the cause of her headaches. A second CT scan showed that no further bleeding was occurring, but the doctors advised she should remain in the hospital. On Jan. 19, after the third CT scan, the doctor thought things were improving and that Lynn could return to our boat if we promised not to move it for a week. As we left the hospital, I noticed a DAN sticker on the wall of the emergency department. It was a nice reminder that DAN is everywhere.
We took the doctor's advice, and thank goodness we did. After three days back aboard Homers' Odyssey in Providencia, I started noticing things that caused me concern, such as my wife dropping objects with her left hand and not realizing it. The intensity of her headaches also seemed to be increasing. I called DAN again as well as the neurologist in San Andrés. We made the decision to take Lynn back to the hospital for a fourth CT scan to determine whether she needed to be medically escorted back to Canada. That morning, after the examination, Lynn collapsed in our hotel room in San Andrés and went into a grand mal seizure. I called an ambulance, and we again headed back to the hospital. Four hours later in the emergency room she had a second seizure. This time a medical team responded within 30 seconds, providing oxygen and antiseizure medication.
The seizures were caused by the increased pressure that resulted from the internal bleeding, even though the bleeding had stopped two weeks previously. After another two days of observation and many phone calls between me, DAN and our Colombian neurologist, the decision was made to move Lynn to a higher level of care. Due to the severity of the injury and the continuing uncertainty about Lynn's status, DAN determined it was medically necessary to send a paramedic to San Andrés to escort her back home to Calgary, Canada. The medical kit the paramedic arrived with quickly became the envy of all the nurses as they came into the emergency department one by one to inspect it. Their hospital was not equipped with all the medicines and portable equipment we have in North America, but they did a really good job with what they had.
DAN's support team was exceptional. All phone calls and history were thoroughly documented, and we and our Colombian doctor could speak to DAN's medical team in English or Spanish at any time of day or night. If my cell phone was running low on time, I could call DAN and they would immediately call me back. This type of support was very reassuring for both Lynn and me during such a stressful time far away from home. DAN arranged for all return flights to be either business or first class depending upon last-minute availability, and the paramedic was very experienced in medical travel, arranging for wheelchairs and preboarding, and was happy to answer questions. Lynn arrived at the hospital in Calgary on Jan. 29 after an all-night series of flights through Bogota and Houston. She had nothing but praise for the paramedic, who never slept a wink, keeping a watchful eye on her at all times.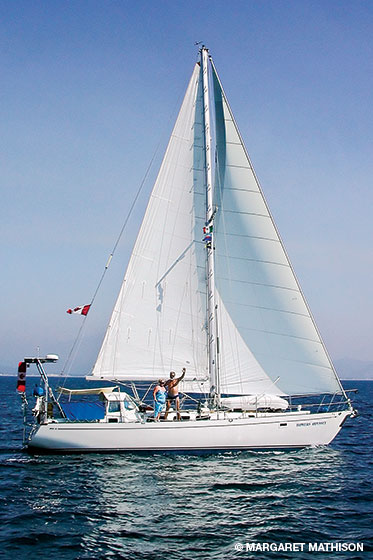 DAN made all the evacuation arrangements directly, and they authorized me to pay for local transportation between the Colombian islands (one of the puddle-jumper pilots would only take cash). I kept the tickets and all the receipts, and a few weeks after we were back in Canada we submitted our receipts to DAN for all the items we had paid out of pocket. These were all subsequently reimbursed by DAN.
The doctors in Providencia and San Andrés as well as the neurologist in Canada all confirmed the hit Lynn took to her head could easily have killed her at the time. Nine months later, I am now back aboard Homers' Odyssey in Rio Dulce, Guatemala, and happy to report Lynn will be joining me in a few weeks for some sailing in Belize and Honduras. We received clearance from our Canadian neurologist back in July, following an MRI, that she was fit to resume normal activity including driving and traveling. We would both like to take this opportunity to thank DAN's staff for the incredible support they gave us during this difficult and stressful time. I have spread the word in all the sailing organizations we belong to, encouraging others to join DAN if they are not already members. I maintained a log of every phone call to DAN and every medical detail, but those records were sent back to Canada with Lynn and the paramedic. I now cannot remember how many times I talked to DAN on the phone, but they were always there for me.
The Medic's Perspective
By John U. Lee, EMT
The Homers' story exemplifies the need to prepare for the unexpected and create an emergency action plan before embarking on any kind of trip.
Having good communication capabilities was key to the eventual success in treating Lynn Homer. Whether it is a cell phone, a satellite phone or a marine radio, the means to communicate with medical professionals is a primary need. Another important element of an emergency action plan is knowing the location of the nearest medical facility, the travel time and options for getting there as well as the best way to contact local emergency medical services. Consider that if it took three planes, a cab and a water taxi to get to your location, it may take similar time and effort to evacuate.
This situation also illustrates the nature and importance of follow-up care. Too often we neglect the relevance of continuing care with a medical professional. DAN is available 24/7/365 for physician consultation; knowing this helps when dealing with an emergency as well as when conducting an evacuation and ensuring appropriate follow-up care.